Sharing a few of my favorite products. See my Gear Reviews page for additional items that may have direct coupon codes and discounts as a result of testing opportunities.
Running Gear
I always recommend going to your local running shoe store to get fitted for the right shoe for you and your feet. But aside from shoes, here are some of my favorite items.
Garmin watches. As you'll see below, I'm pretty partial to Garmin. That's not to say that other brands aren't just as good, but Garmin was what was first recommended to me when I took my run tracking to the next level, but was what most of my peers were using as well. I did a TON of research on which option would work for me, and my Forerunner 235 held strong for over 2 years before I finally upgraded to the 935. But more details on each one below:
The 'Start Tracking' Watch: I've heard great things about the Garmin Forerunner 35, especially as a watch for runners who are just starting to track their stats.
The 'Want More Data' Watch: I used the Garmin Forerunner 235 for almost 4 years before upgrading. It gave me all the details I needed and more for my beginner 5k to ultramarathon journey.
The 'Now We're Getting Fancy' Watch: If you want to take your fitness training to the next level: you do all types of workouts, or are training for triathlons, its time to check out the Garmin Forerunner 935. Garmin has now released the 945, but I haven't tried it and am still on the fence with reviews. I recently upgraded to the 935 and love it; it has absolutely everything I need and then some if I want to take up cycling outdoors. In the meantime though, it can also track my yoga, paddleboarding, strength training, etc. You can purchase additional bands as well to switch it out and mix up the look.
Hydration Packs
When you're logging a lot of miles and are largely self-supported (need fuel and hydration), then a hydration pack will be your best friend. I can only speak to the women's fit, though the OrangeMud is for either gender and can be adjusted with two chest straps (which I think would be helpful for anyone using it.
Orange Mud Gear Vest Pro: I originally tested this vest as part of the BibRave Pro program, but loved it so much that it promptly moved to the top of my gear pile. You can read my full review here, but essentially, I love the size, pocket assortment, and water capacity (1L) which is perfect for shorter long runs. This vest is unisex but I had no issues once I properly fitted it for my chest.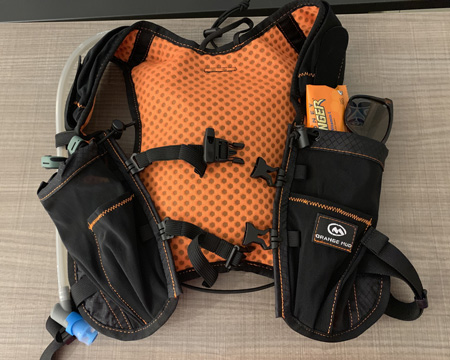 For my really long runs, I like to use my Nathan VaporAiress. I had recently upgraded to this vest before my Antelope Canyon Ultra, as my previous Nathan was old, stinky, and couldn't hold quite as much as this one. Unless you're doing ultras or fully supported long, solo runs, this might be overkill, but it's a great vest and can hold a lot without feeling cumbersome.
Anti-Chafing Products
Squirrel Nut Butter is my go-to chafing prep product. I have never applied it and then ended up with chafing (unlike some other well-known brands). While it can feel a little greasy to apply, I'll take that over the woes a hot shower after a chafe-filled run. You can get it in stick form or in a tub if you really want to get in to various crevices (like between your toes if you're prone to blistering there).
Trail Toes is also a great product, but I've only ever used it on my feet. I used this in conjunction with Injiji toe socks during the Antelope's Canyon ultra marathon (50 miles, with desert sand) and had nary a rubbing blister.
Injiji Toe Socks may look funny, but man are they effective! As mentioned above, I wore these for my first ultra, and on all of my long training runs. They keep the toe blisters at bay so I have one less thing to worry about post-run.
Books
Lauren Fleshman's Believe Training Journal is a must-have if there's something about physically writing down and journaling that you love. There's space to record daily activities, tracked by the week. Every four weeks is a little break with training tips, stretches, mental exercises, etc. to help with your progress. It's great for your own training or as a gift for your running buddy.
Born to Run by Christopher McDougall was not only the first book that I read about running, but honestly one of the first non-fiction books that I so thoroughly enjoyed that made me want to find more in the genre. I really couldn't put it down, and loved the high level overview of running and breakdown of how the human body really is ultimately 'born to run.'