Hi there! My name is Christine, last name Newton (see what I did there?). I started a crazy journey towards a healthier lifestyle back in 2015. I went from a pretty sedentary lifestyle, to running marathons and teaching group fitness classes.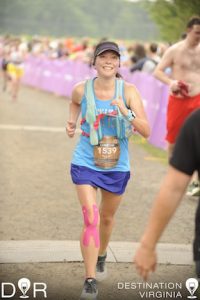 I started this journey after my second child was born in January 2015. I was depressed, suffered from anxiety, and was frustrated with myself because of the number on the scale. I wanted to be able to chase after my two little boys in the yard and show them healthier habits. It was time to take care of myself, set an example for my kids, and adopt a healthy lifestyle. While I initially lost a lot of weight on this journey, I soon changed my mindset from chasing a number the scale to chasing the next big PR!
I've been married to my super-supportive husband, James for 15 years (how'd we get so old?), and together almost 20. We have two little boys who keep us on our toes, and a whole bunch of fur babies (one dog, one cat, and two kitties in heaven).
I am working my way through the 50 states, doing a half marathon or further at each one. So far I've completed:
10 out of 50 states
16 half marathons
4 marathons
1 ultra marathon
I'm an Ambassador for the following companies:
And I'm part of the Oiselle Volee.
I also have a sewing and craft blog. It's a little bit neglected at the moment, but I pop on to update it from time to time. It's called, What's Up, Cupcake?
On to the legal stuff:
This blog is a personal blog written and edited by me. This blog is opinion-based and is my own thoughts, ramblings, ideas, and so on. These opinions do not reflect the ideas, ideologies, or points of view of any organization I am potentially affiliated with. My blog is authentic to the best of my knowledge, and as such, it is prone to errors and absence of some key information. The content on this blog is generated for entertainment and informative purposes, but not to be perceived as professional advice in regards to health or finances, or any other field. Any information that you take on this website is strictly at your own risk. I am eligible to change or decide how to manage the information on this blog.
SaveSave