I received a set of AfterShokz Air headphones to review as part of being a BibRave Pro. Learn more about becoming a BibRave Pro (ambassador), and check out BibRave.comto review find and write race reviews!
I've been a proud owner of AfterShokz Trekz Titanium headphones for almost a year now, and yet I still jumped a the chance to try out the new AfterShokz Air headphones. I wanted to see how they could improve on something that I already really loved. But first of all, let me explain a little about AfterShokz headphones and why they are different from your regular headphones.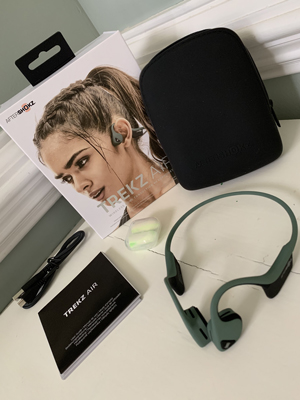 First things first: they're wireless. Ok, that's a given in this day and age, and yet Apple still gives you headphones with wires when you spend an obscene amount of money on their phones (spoken from recent, slightly bitter experience). Maybe I haven't wow'd you yet…
Second: they DON'T go IN your EARS! Wait, what? That's right. AfterShokz uses bone conduction technology. Let me just take a direct quote from their website for this one:
They send mini vibrations through your cheekbones, directly to your inner ear, leaving your ear canals open.

AfterShokz.com
This leaves your ears ready to hear your surroundings when you need to. Does this compromise the integrity of the sound of your headphones? NO! It's pretty amazing. I had first heard about this technology a few years ago, when I was regularly lap swimming. I had wished there was a way to listen to music while I was doing so, but figured that would be next to impossible other than loudly playing music poolside. Well, speaking to a fellow swimmer one day, and they had a pair of headphones that used bone conduction, but you could only hear it underwater. Mind blown. But then, I looked at the price tag and figured for the very few times I swam laps, it wasn't worth it, especially as you could only hear the music underwater so it wouldn't be versatile enough to use on land.
Fast forward a few years, and I found AfterShokz. They went on a wishlist as a maybe to replace the wireless headphones I was already wearing. My problem with those headphones was that:
While they were efficient, it was almost too much; I couldn't hear my surroundings. This could be both terrifying and stressful when running on busy streets or alone in the woods. I wanted to have more awareness without completely forgoing music.
TMI, but I'm sweaty. I've had long, hot, summer runs where sweat is dripping down my face, pooling around my ears, and then my earbuds just get incredibly uncomfortable and soggy.
My husband gave me the Trekz Titanium's as a gift and I was in love. The only issue? Sometimes, the pressure on my upper cheekbones was a bit too much for a really long run and I'd start to get a headaches. So I pretty much reserved them for shorter distances, but used them almost exclusively now for those runs.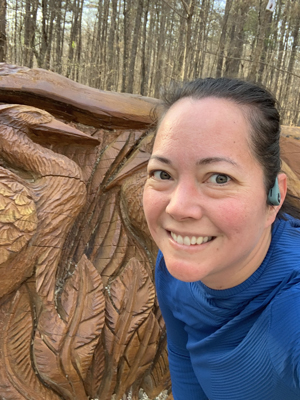 Now on to the AfterShokz Air. The immediate difference in these headphones is their lightness. The Trekz Titanium was already light, but these felt considerably lighter but also thinner. What does this result in? I found it completely resolved my issue of the pressure to my cheekbones. In fact, I barely felt like I had anything on at all! I forgot that they were there for several of my test runs.
I was nervous that this would mean they wouldn't sit still while bouncing around on runs or during high impact problems. Thankfully, no issues there either! They held perfectly in place! I gave them the full gamut of exercises while I tested them: Road running, bouncy, single track trail runs, strength training workouts, practicing PiYo, etc.
The sound is the same, excellent quality. You can hear your audio crystal clear, in fact, it almost seems better than the previous wireless earbud headphones that I have. But I can also hear my surroundings. Especially when running, I don't turn the volume up too high, but I am able to hear the footfalls of someone running by me, or a car approaching. This alone is invaluable for my own safety and comfort while wearing them. Even my kids played a role in my testing, running in an out of the house while I was cooking dinner, listening to a true-crime podcast. Nothing they needed to listen to, but I could still hear if they were calling out to me or were coming in to ask me a question.
The buttons on the headphones were easy to use. I was able to pause my music while out on a walk and passing neighbors with a quick conversation. I could easily adjust the volume up and down, and pairing with my phone was a breeze. I also took a few phone calls while out on walks in my neighborhood and no one had any complaints about background or wind noise while we chatted. If you do want absolute silence from background noise while listening to their headphones, they do provide a pair of earplugs. I've never had the need for them with my headphones but I have worn them when my husband's snoring bothers me. 🙂 The battery life seemed to be about 6 hours, which is comparable to my other wireless headphones. It alerts you when the battery is running low so you know to charge them back up. There is also a two year warranty. The details to sign-up were included with my headphone pack.
Overall? This is a 100% honest review of the product andI would highly recommend these headphones for anyone. I know a lot of people who have issues with getting earbuds to fit in their ears and this would immediately solve that issue. These headphones provide great quality of sound, comfort, and versatility in an active lifestyle.
If you'd like to get your own set of AfterShokz Airs, you can get $50 OFF the Adventure Bundle by using this link, or the code "BRBUNDLE" on their website.