Disclaimer: I received an entry to the Charlotte Allstate Hot Chocolate 15k/5k to review as part of being a BibRave Pro. The review, thoughts, and observations of the experience are honest and based on my own experience. You can learn more about becoming a BibRave Pro (ambassador), and check out BibRave.com to review, find, and write race reviews!
I have had my sights on the Hot Chocolate race series for a few years but had never been able to make it work with my schedule. When I first started running a few years ago, I was all about the theme'd run. Slowly, as my racing distances grew, my attention strayed from those fun races. I do like a good 5k, but it would have to be something convenient or in conjunction with another event to get me up that early in the morning. When BibRave shared the details of the Hot Chocolate series, it dawned on me that they also had a 15k option. Charlotte is a couple of hours away from Raleigh, so not horribly inconvenient, especially for an event that I've been interested in for a bit. A few friends had also expressed interest in the race (because who doesn't want a finishing prize of a bowl of chocolate!), so I jumped in on the action.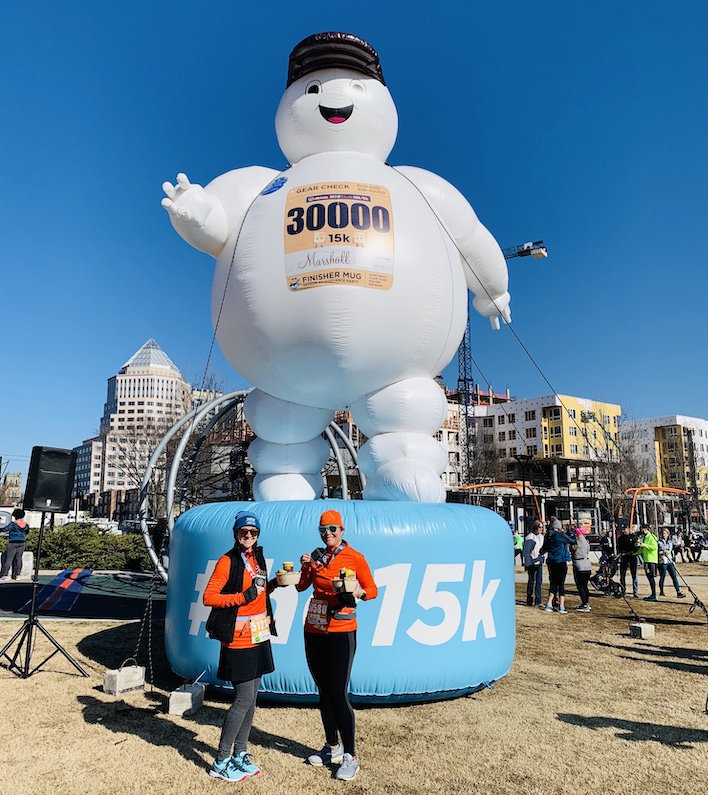 Registration was easy, and I was excited to see that aside from the bowl of sweets at the end of the race, you also received a swag jacket at bib pickup. They provided sizing charts online to help pick out your size, but at the race expo, they also had a table to try on other sizes in case you needed to swap. The bib pickup hours were pretty limited, which they communicated from the start (at registration), but I appreciated that you could request the bib to be mailed to you for an additional fee. But with the expo hours being only until 6pm the Friday before the race, and no morning-of pickup, I could see this being a challenge, especially for anyone coming in from out of town. I would be sure you could make the expo when you sign up, or add on the mailing ahead of time to avoid a fiasco on race weekend.
Speaking of race weekend, we were able to book a hotel just a couple of weeks out from the race and right by the starting line. We were one block away from the expo and maybe a 10-minute walk from the start and finish. I would highly recommend staying close by, especially if you're coming in from out of town. It makes the whole experience so much easier and there were a lot of dining options for us due to our location in Uptown Charlotte.
Having just done a PR at the Hilton Head half marathon a couple of weeks ago, and knowing that I'm now at the point in my training where I'm starting to build up my distance for the Big Sur Marathon in April, I decided to just treat this race as a long run. A 15k (9.3 miles) seemed to fit perfectly in my schedule as I build up my mileage. Also, having crowd support and aid stations made it far more entertaining than my typical weekend long runs.
We made the drive to Charlotte from Raleigh on Friday, and went straight to the expo. We were a little concerned as it had snowed the day before throughout North Carolina, but by the time we headed out, much of it was already melted. In fact, it was hard to even tell that snow had come to Charlotte though it was definitely a bit chillier than it had recently been. After checking into our hotel, we crossed the plaza and into the expo center. The expo itself wasn't too big, but it was pretty efficient. You walked into an area with the vendors and on the right hand side, you picked up your bib. In walking to collect your jacket, you passed a large booth with sample of some of the sweets, and a breakdown of the allergens. I really appreciated that as I don't eat gluten and was concerned that there wouldn't be anything I could really enjoy. There definitely were a good amount of gluten free and dairy free options available overall.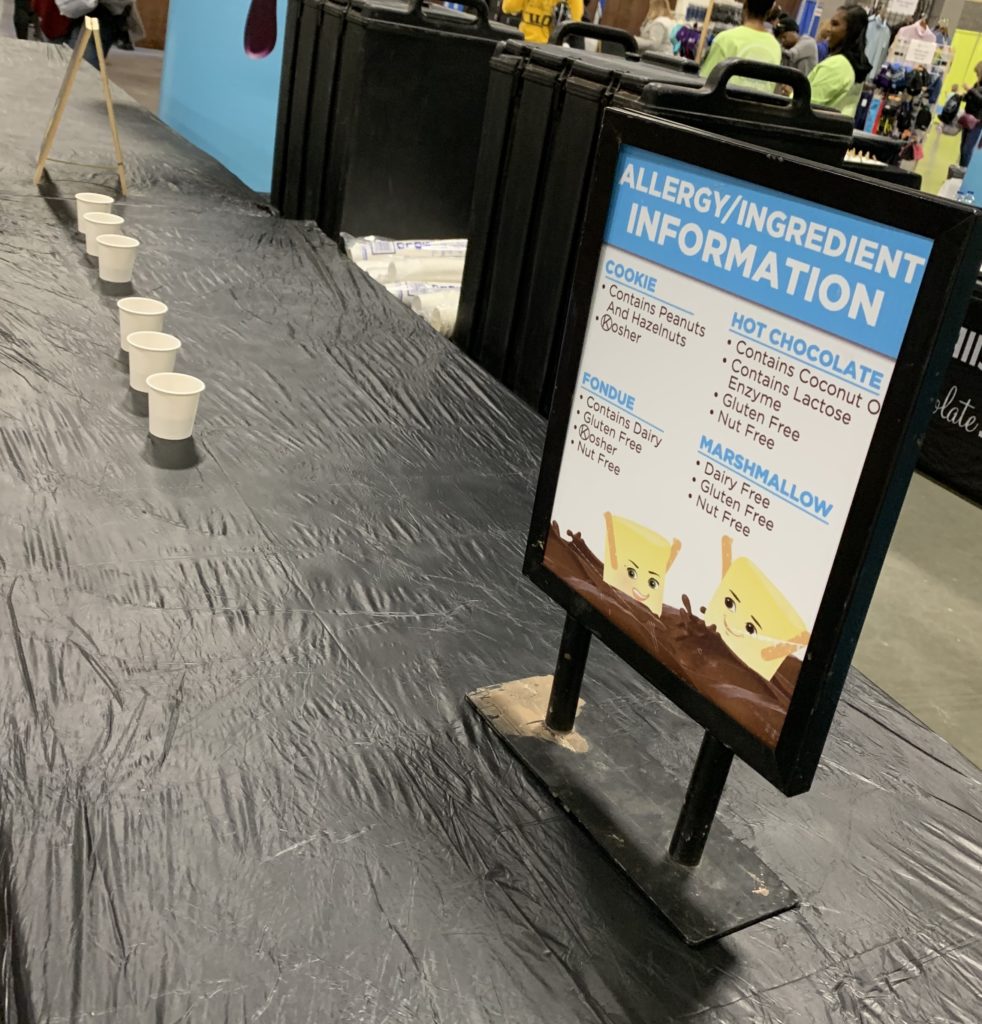 While picking up our jackets, I spotted some BibRave orange across the room. I was excited to find Lissa and Kim, who I had interacted with online but never met in person. We chatted about the race (they were both Legacy, having done it since it began in Charlotte 3 years ago), some talk of how long we had been Pros, etc. After a photo opp, it was off to lunch and to work a bit since we had time to kill. It was a nice, relaxing day, and a great way to decompress before the race the next morning.
Saturday morning, brought a 6:30am alarm and all the layers. The weather app said it was in the 20s and I hadn't run in those conditions yet. I was a bit nervous about it and knew my hat and gloves were going to be crucial to my wardrobe. I snuck out of the room shortly after 7am to get to our BibRave Pro team photo. I was pleasantly surprised by the weather. It wasn't windy so the chill wasn't too bad. To be fair though, I rushed back to the room after the photo to stay warm for another 10 minutes before we had to head over to the start line.
The start time for the 15k was at 8am, which was once again, a nice change from the usual early race starts. The 5k had started at 7:30, so the starting corrals weren't too crazy with the initial rush having left. We headed over to our 'validated' starting group of Corral G. Michelle and I had both submitted proof of time for our estimated finish times and apparently that placed you in the first corral. There were two subsequent corrals that had pacers for the same finish times, but the runners weren't 'validated' so there could always be the risk of someone placing themselves inappropriately (resulting in a bit more dodging around runners or walkers). What I really appreciated was that the first two corrals had signs saying 'no walkers'. I don't have a problem with walkers in general at races, but I do when they place themselves in the starting corrals where people with considerably faster pace times end up dodging around them. It can really slow a runner down and be dangerous (collisions, tempers flaring, etc), so it's a touch that I appreciate when I occasionally see it at a race. And to be completely candid, I am not a speedy runner, so I often have interval racers surrounding me. But this was specifically addressing those that are walking the majority of the race, so should technically be placed at a later corral.
All of that being said, the issue I had with the corral system was that it was a little strange then after the first 'verified' corral took off, there was a lapse before the next corral released. But once it did, it technically could have really fast runners in it. They just hadn't validated their times. So to suddenly have huge surges of people running past you, or pacers for other pace groups that you had already seen pass, but this time were for a different corral (their signs were labeled to indicate which corral they were with), could be disconcerting and confusing. I remember at one point a 10:30 pacer and 11 minute pacer running side by side for a good chunk, but it was because they were from two completely different corrals so it would make sense that they would be in close proximity. I've only been to one race that has done that before and it always seemed like a strange setup. But it probably doesn't bother most people.
On to the race! I had been warned that this was a hilly course. Thankfully, Raleigh is a hilly city as well, so I was trained for it, but there was definitely little to no 'flat' parts. It was rolling hills throughout. If you like that, this would be your jam! There were aid stations about every two miles, and around the halfway point, some of the aid stations also had sweets. One had m&m's, and I saw another later on that had marshmallows. It was a fun touch and I love that they incorporated it into the course.
The miles were well-marked and I was thrilled when I finally saw the 9 mile marker. Just .3 to go! Of course, in good ol' Charlotte hilly fashion, it was an uphill finish. I hadn't felt great throughout my run but I forced myself to push through the uphill across the finish line. I was cold, and tired, but I had a chocolate bar medal draped around my neck and was happy. I headed to the finisher's village which had music playing and various booths to check out. I went straight to the 'mug' station and was able to quickly procure mine after tearing the little redemption ticket off of my bib.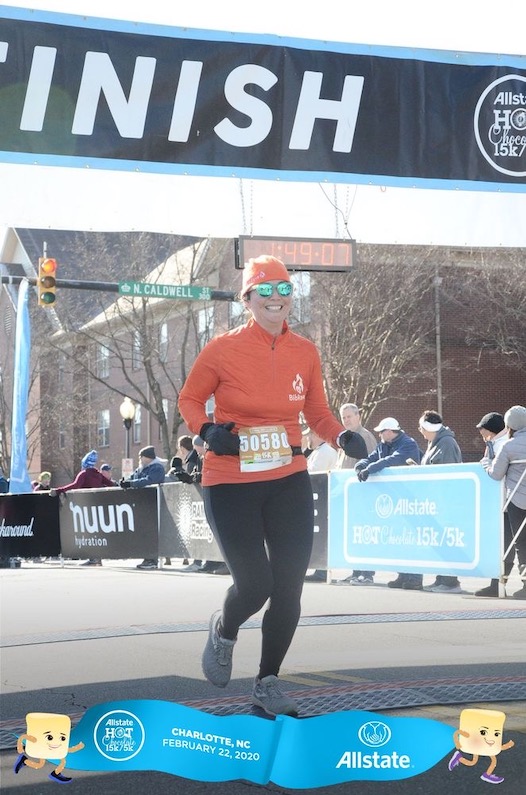 My medal mug was fantastic and included a cup of hot chocolate, a dipping compartment of chocolate fondue, and then an assortment of goodies including: a banana, a rice Krispy treat, a pirouette cookie, a gluten free Honey Stinger waffle, a bag of pretzels, and of course, a marshmallow. The banana was the best part, dipped in the hot fondue. The whole 'mug' was made of biodegradable cardboard, which was a change that they implemented for the race this year.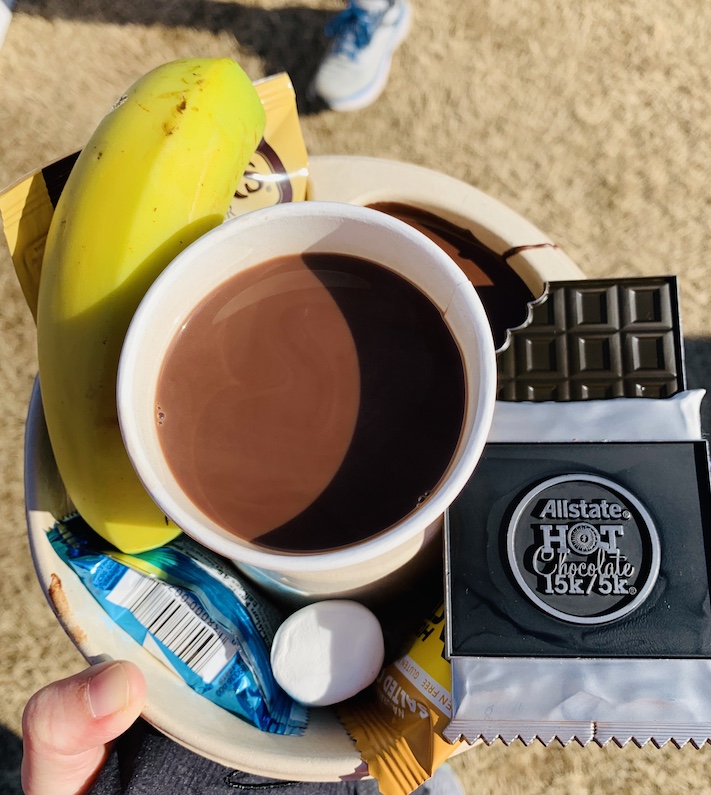 I slowly made my way back to the hotel where we freshened up and then headed to brunch with the BibRave Pros. We met at a nearby Amelie Cafe, which is one of my favorite places to eat when I'm in Charlotte. I picked up some pastries for the family and then we started out on our two hour drive back to Raleigh. Mid-drive, I found an email from the race saying that our pictures were ready. I thought it was a bit pre-emptive… there couldn't possibly be a way that they were done already. But sure enough, there they were! I love when races offer free photos, but providing them a couple hours after the race was pretty fantastic.
This race was definitely a fun one. I still can't believe it took me so long to finally get out and experience it, but I'm glad I did. I have a few friends that wanted to try it in the future, and it has my vote. I think the 5k and 15k are perfect distance options to appease a lot of runners over the usual just 5k option, and all the swag and little touches throughout the race were really fun.
What's your favorite theme'd race that you've run, or that you want to try? Tell me about it in the comments!