This idea had been brewing in my head since we purchased this home. When we moved into it, we were given a hand-me-down elliptical, that was nothing fancy but did the job. I dreamed have having a full fitness room in the house, but given our other room requirements (rooms for the boys and a guest room as we most of our family and friends are out of town so need a place to stay when they come to visit), I knew it would need to be a dual purpose room. The downstairs front room made the most sense as a home office, mainly because it had doors that could separate it from the living space but didn't offer much else in terms of privacy (window-pane French doors), and it got the best internet reception in the house. James works from home pretty much full-time and I have some flexibility as well, so we wanted (and needed) a dedicated space for work. The layout of the room with our existing desk set that we've had for YEARS was a little cluttered, but we made do, and placed our elliptical in there as well.
After a couple of years of this running obsession, and my aversion to running in extreme storms and ice, I thought a treadmill would be nice to add to the room. I've always heard that treadmills are the bread machine of the fitness world, and I should just get one used rather than a new one. Sure enough, I found a gently used (mostly for hanging clothes) treadmill on a local buy sell trade page. Less than $200 bucks and works like a charm! The biggest challenge was getting it out of their second story bedroom and into our front office. But we did it, and it joined the now-even-more-cluttered room. But a problem arose… the ventilation in this front room has always been awful.
The front air vent doesn't sufficiently cool the room in the summer or heat it in the winter. We found ourselves opening the windows and clearing out of the room in the hot months, and bringing in a space heater in the winter. There was also no built in lighting and the one measly lamp that we could fit into the room was always in the way of the cluttered space. I became determined that the best fix would be to install a ceiling fan with some recessed lighting. Well, I had bigger fish to fry in the form of last year's pool installation. As much as I knew this wasn't a HUGE project, it would have to wait.
Time went on and in addition to everything else in our busy lives, I started to miss the ability to make it to my favorite cycle classes. I used to love spinning and would go 2-3x a week. For a while I was even teaching it, but with my new company and commute, it was just hard to make class times that I enjoyed. I also needed to fit it in to peculiar hours dependent upon my run schedule, etc. At the beginning of the year, I set a goal for myself. I had done some research on the Peloton hack and thought of ways to save up for a bike for myself at home. Where to start? I got the idea of using health insurance incentive money (my company does a program where you complete activities and earn gift cards as rewards), and saving it specifically for a bike to use for the 'hack.' It seemed fitting given that the activities are all based on a healthier lifestyle from food, to exercise, to overall mental well-being.
So I began the process of earning Amazon credits for my rewards. Every time I received a reward, I saved it to my Amazon account for the final purchase. In addition, I setup a notification on CamelCamelCamel.com (yes, it sounds sketchy, but it's legit). Essentially, it's an Amazon price tracker website. You enter the name or link of the item that you want on Amazon, and it shows you the price fluctuation history. You can see if there are any trends in the pricing, as well as the lowest price it's been. From there, I setup a notification for when the bike I wanted hit a certain amount. And then I waited.
Thankfully, shortly after I received my final health incentive reward, I received a notice that the bike hit my target price. I jumped on it, and skipped the 'expert installation' based on the reviews stating that it had fairly easy assembly. As this was the beginning of our North Carolina Summer, I had conveniently also begun speaking to contractors to make the changes to the room. They were generally minor, but I don't mess with electrical with our limited fixer-upper knowledge, so we wanted a professional on board. We found a great contractor that came highly recommended, and who could also get the work done for us within the next few weeks. As we cleared out the room in preparation for the work, we plotted out the possibility of a new layout, using furniture that we already had.
The week of the work began. It essentially came down to the following:
cut out the space for the ceiling fan and 4 recessed lights, installing the electrical connection to the room and moving the previously oddly placed switch (it connected to an outlet on the other side of the room) to a spot right by the entry.
Scrape down the awful popcorn ceiling.
close up the wire connections. He also replaced all of our sockets as they were the originals to the house… our house is over 20 years old so they were pretty banged up and some crumbled when the facing was removed.
fix the doors so they no longer swing both inwards and outwards… they were impossible to keep open and were constantly banging as the kids ran in and out of the room. Standard hinges and railing on the edges so that they could actually close and stay put.
Finally, painters came in and patched up the ceiling, smoothing it out. They painted the room Agreeable Gray, repainted the chair railing, crown molding, and the ceiling.
As they finished up their work, we mapped out the new layout. We decided to split up our desks from where they had previously lined the whole back wall, and separate them across from each other. We would be less likely to clutter each other's space (and I would no longer have to look at his stacks of paper that give me anxiety). Setup the exercise equipment on the opposite side of the room, facing the tv that hangs in an odd, previously cluttered corner of the room. I could place my workout dvds and random weights underneath. It also gave a home for my step which had previously been a tripping hazard in the middle of the room. The bay window now had more open space where I could place my lovely Fluidity barre and accessories like my yoga mat, squishy barre balls, rollers, etc. This layout opened up the room SO much. Now I have more space to practice my PiYo and Mossa rounds as I get ready to teach them and with the ceiling fan I have delightfully refreshing air flow so I'm a little less sweaty than usual.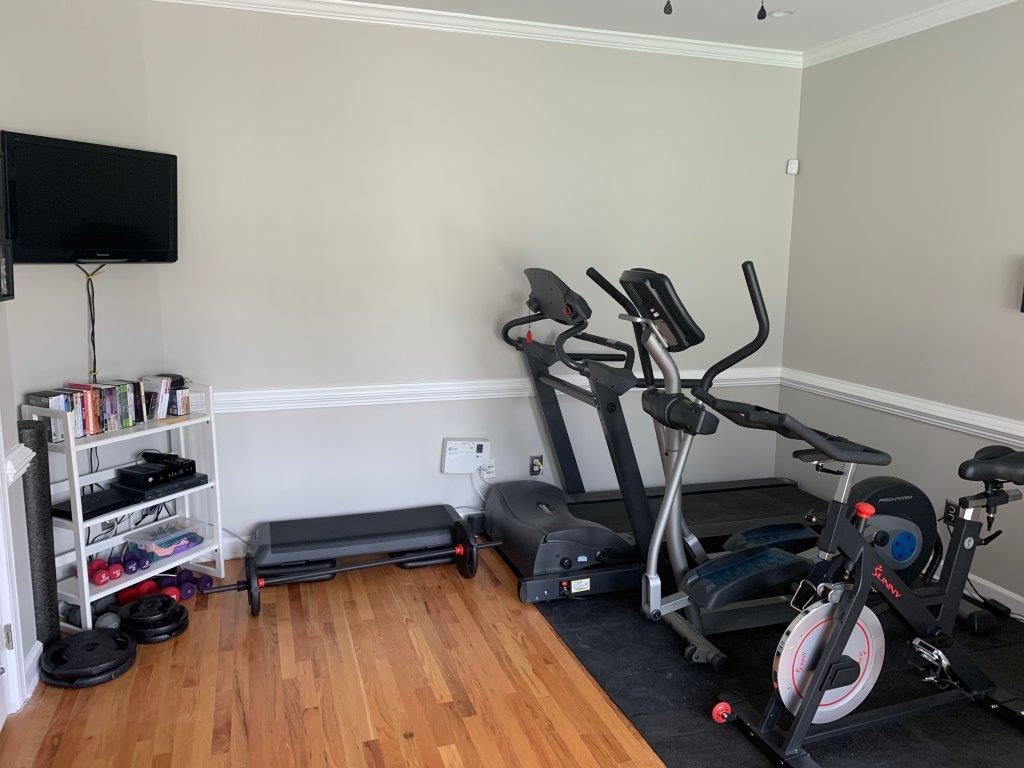 We are so happy with the new setup! We were able to re-arrange all of our existing furniture pieces, with a couple of swaps of other pieces from around the house. The only new additions to the room are those called out below, but the rest of the furniture and gear is stuff we've had and just re-arranged/moved from other areas of the house. We lost a little bit of storage for books, etc, but it also made me take a hard look at some of the things I've been holding on to. I really don't need my college math textbook anymore, and we are 10 minutes away from a library so unless a book has sentimental value or we plan on reading it sometime soon, it's on it's way out to donation or our neighborhood 'little library'. As for the main addition to the room, I'm loving my new bike. I'm just doing the Peloton digital app and have the setup similar to the hack. Some of the equipment that I needed for my Peloton hack was:
A Sunny Fitness and Health Bike: I scoured Amazon for various bikes. The original hack uses a slightly less expensive bike, but the one that I purchased had such great reviews and as mentioned above, and I was able to snag it during one of the price dips.
Wahoo Speed and Cadence Sensor: These help in tracking the cadence and speed of your ride to align it to the Peloton workouts. I had to do some jerry-rigging to get them attached to the bike, but overall, it works great. It does track cadence which is used as a Peloton cue, but the speed vs. resistance is a bit trickier. I am able to gauge my level based on the effort that the instructors cue, but I'm also pretty familiar with the effort levels due to the amount of classes I've taken/taught. So this could be something you just need to get used to.
Note: You have to have two separate devices to do the hack. I use my iPhone to show my speed/cadence data on the Wahoo app, but I use my iPad to stream to my tv. You could also just watch it directly on the pad, but you get more of the experience on the larger screen. Unfortunately, you can't do both at the same time on one device. We use our AppleTV for streaming; I believe the Peloton would stream via other sources. We already had the AppleTV so we just moved it to this room. This will also make it where we can watch anything else that we already have subscriptions to while we're on our exercise equipment.
I already have weights and the other accessories that are typically used, so I'm able to just pull from my existing items, but a lot of the workouts do provide weight cues for arm workouts, etc. If you wanted to do those, you could just pick up a cheaper set.
I also got a mat to go underneath my bike. The purpose being to protect our floors and to help soften any noise from the bike, as well as catch my sweat pooling versus it sitting on our hardwood floors. The bike is very quiet so the mat isn't a complete necessity, though I do think it made it a little more so. I liked this mat because we were able to cut it to size to fit perfectly in our space. We also already had mats underneath our other equipment so we were able to space them side by side for complete coverage.
A great part of the Peloton digital app is that there are so many other workouts – I can use the treadmill or outdoor run prompts, yoga, strength training, etc. And I can share my access with James, so we both get to utilize the workouts that we want to do.
So that's it! I hope you enjoyed the changes to our space. A few people that follow my stories on IG had been asking for the full scoop of what we were having done. Let me know if you have any questions in the comments below.