Disclaimer: I received an the Orange Mud Gear Vest Pro to review as part of being a BibRave Pro. Learn more about becoming a BibRave Pro (ambassador), and check out BibRave.com to review find and write race reviews!
In case you haven't noticed already, I'm a bit of a running gear junkie. I love ALL the accessories and have been known to even wear running vests for short runs. I'd argue that on a ridiculously humid day in the North Carolina summer, it's better to be hydrated than mid-run with a cramp, but to each their own! That being said, I own three running vests in various sizes, and two waist pouches. But even with all of those options, this vest was different!
Size: The Orange Mud Gear Vest Pro is the smallest of my vests with a design that sits higher up on my back and closer to my shoulders. You would think this means it would hold less, but the front pockets are actually the largest of any of my other vests. They allow for front flasks in both of the front pockets, especially helpful when you don't want the back bladder or if you want variety in your hydration items (more water, electrolytes in one, water in the other, etc).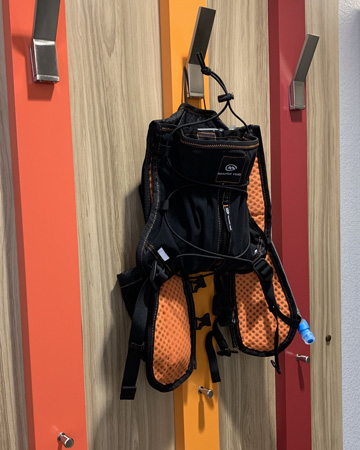 Water Storage: The pack comes with a one liter storage bladder, which is the perfect size for my longer short runs… in my case, anything from 6 miles to 14, depending on the weather and overall run intensity. But keep in mind that I will bring a hydration flask for runs over 4 miles in the summer. I loved the bladder size as my two larger packs have two liter bladders, which just feels a bit excessive at times. I obviously don't have to fill those up to capacity, but when I'm doing the lower mileage, I don't necessarily want a giant vest and bladder to go with it. This bladder was easy to fill, though I did hear from other BibRave Pros during the testing process that they didn't know how it worked. It's the same design as other bladders that I've used so I was able to figure it out immediately, the pouch just sticks the first time you open it, thus their confusion. After that it's not an issue. The bladder is also completely removable so you could take it out if you didn't want to use it.
I loved the size of the bladder and it was perfect for my April half marathon on a slightly warmer day. The tube itself was easy to use with the bite valve that has a 'close' option. Great to prevent water from leaking though I don't generally have an issue with that unless I accidently place something on top of my vest that presses on the valve. The length of the tube and where to place the end took some trouble shooting during my race. It's definitely longer given how high the pack sits on your back, but it made for easy access when I was ready to drink. But it did bounce around while I was running. I eventually tucked it into one of the front pockets which was an easy solution and didn't prevent me from accessing it. I have also tucked it in to one of the front chest straps as I saw in a picture on their site and it worked out really well, too.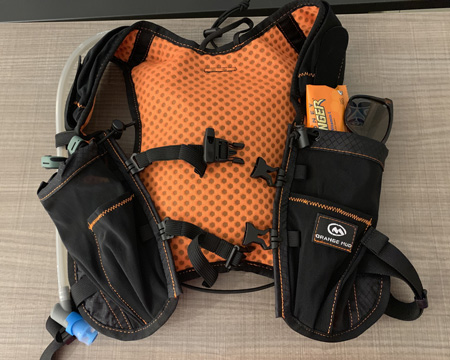 Pockets: This brings us to pockets. As I mentioned, this bag has a lot of storage. Two large front pockets that can hold additional water flasks, but I use them to hold my phone, wireless headset, sunglasses, gel, waffle, and gummies. It also has two smaller pockets in front that can be used for the latter or other smaller objects. The back has the bladder storage, as well as an open section behind it where you could squeeze in some additional 'larger' items (I'd throw a buff or maybe a tank top in there if needed on a day when I had layers), as well as a zippered pocket that was perfect for my car FOB, ID, credit card, and some cash. Always prepared, especially on race day!
There are two shoulder pockets with a velcro closure where you could stash some gels/GUs or other small items. I was tempted to put my car FOB in there but the gap on the velcro closure had me concerned that depending on the size of yours it could slip out. There are cords for attaching your trekking poles to the front of the pack, as well as the traditional bungee at the back that could hold them in place or keep your larger layers as you shed clothing on your run/ride.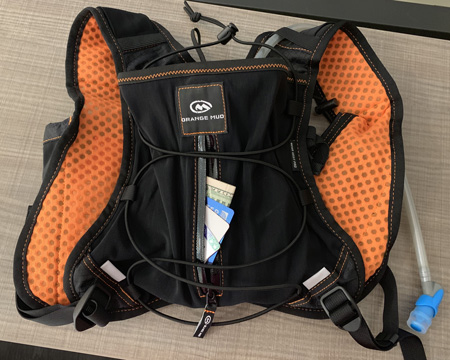 Fit: I'll admit, the fit took me the longest to master. With my other vests, because they covered more of my back, it was easier to adjust them into the right position. I didn't realize when I received this vest how to properly adjust it into the high back position and keep it there. I found on their website that they include the instructions online, but unfortunately not on the gear tag. As I brought this to a race and didn't consider perusing their website, I didn't find this information out until after. I had fit the vest to me the evening before the race and thought I had it setup properly, until I actually started running and spent intervals throughout the event trying to get the fit just right. I would adjust the sides but it would keep sliding down my back. The front would be riding up, etc. Probably halfway through my half marathon, I discovered that the front clips slid up and down. This immediately made the fit MUCH better though there was still some sliding. I was done fiddling with it and it didn't bother me enough to do anything about it. By the time I went on my next run, I found that with the right combination of tweaking the side straps, and then moving and tightening the front, I finally got the fit right. I wear a bra size 34DD, so throughout this process, I had assumed it just wasn't meant for women with a chest. After I finally figured out the proper strap tightness and placement, I had the perfect fit and no longer had issues with it sliding up and down my back. The extra cord I just doubled up into their fasteners on the side and front. No more dangling or smacking me while I was running.
I'll save you the time of looking up the strap directions. Here they are directly from their website:
The key to fit, cinch the sides first, not the front, until you feel the pack anchor on your shoulders. Then adjust the front harness as needed so you can breathe during movement.

Orange Mud Gear Vest Pro Product Page
Overall: I would say that lack of direction on the straps was the biggest issue I had with the vest. That's an easy fix, but it definitely took some fiddling around with the straps initially and had me questioning whether or not I could make it work. Once I had the fit right, it wore perfectly. I loved the one liter bladder size, and the front pockets for the option of holding additional flasks. The pocket storage overall was generous for this gear junkie. I can see myself grabbing this vest to take out on the majority of my long trail runs going forward. The bladder is small enough for not doing an ultra distance (if used alone, and keeping in mind that I'm a camel and seriously go through a TON of water), and I'm not left carrying around the bulk of a larger vest and sloshing 2L bladder. With added front pockets, or if you're just not a camel like me, you could likely easily use this for ultras. I've worn this for a dozen plus runs now, ranging from two miles (hey, it was hot out!) to a half marathon. It's been great and is now the default vest that I grab on my way out the door. The only suggestions that I would have for Orange Mud would be:
– provide instructions on their tag about adjusting the fit, and
– a clip for the bite valve to attach to the front strap or other location.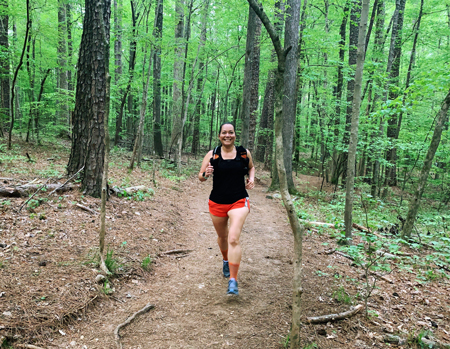 The retail of the vest is $129.95 at time of this posting. I did some research on other running vests and it is pretty comparable within the market. The front flask(s) will cost you extra but the one liter bladder is included and is the standard, durable bladder quality. The vest itself is very durable and well crafted. It also comes in three color options: orange (mine), green (a fun neon), and coyote brown which seems like a nice, neutral color. I like the orange especially because my area tends to have trails that border in hunting areas. While I avoid those when I can, you are supposed to wear orange to protect yourself (for visibility) in those cases.
Discount: The moment you've been waiting for! If you want to get your hands on your own Orange Mud gear, here's your chance: use the code
"BIBRAVEGVPRO" for 15% off all Orange Mud gear.
Do you wear a vest or similar for your long runs? What features do you look for?