It's been a minute, but I wanted to hop on here really quick to share some fitness inspired holiday gift ideas. My workouts are all home-based these days, and I've found an assortment of the following has been great for keeping up with my routine and recovery.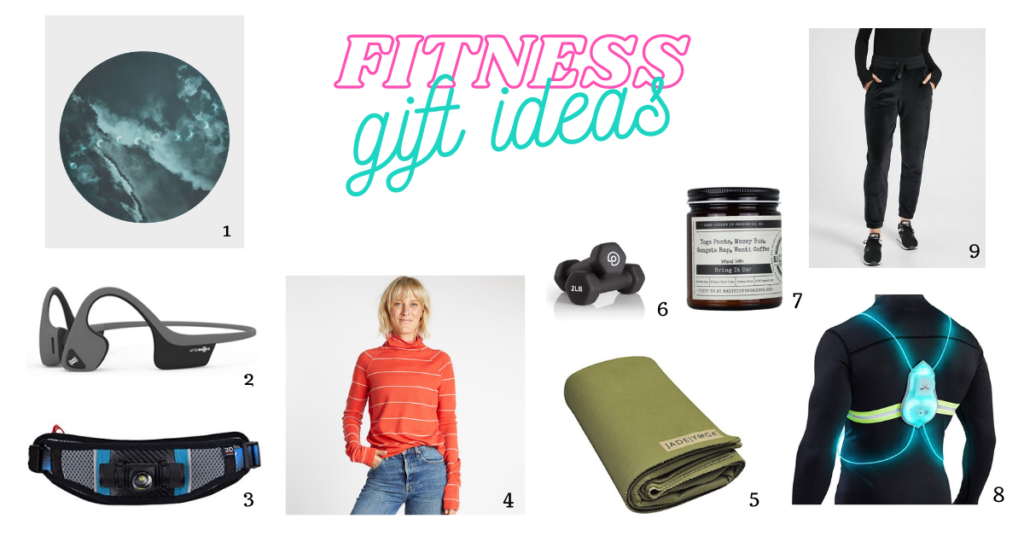 1 Manduka Round Yoga Mat: I got this for a lighter background to teach my Zoom fitness classes, but now I use it for most of my workouts.
2 Aftershokz Air Headphones: I was already using this headset for my runs, but now it's my speaker for teaching my classes. It's so lightweight that I forget it's there! It uses bone conduction technology so nothing goes in your ears. Here's a previous review I wrote about these headphones.
3 Ultraspire Waistlight Belt: I don't have this, but it's on my wish list for this year! A friend showed me theirs and it looks great for casting a wide light when running or walking as it feels like it's constantly dark outside right now.
4 Oiselle Wazzie Wool Mile One Pullover: I purchased one of these last year and loved it so much during all of my cold weather runs that I went ahead and got another this season. Don't let the 'wool' in the name scare you. I break out in hives at the thought of a wool sweater but this one is so soft and cozy, and will be the perfect companion during those cold, winter workouts. Here is a referral code for a discount off of your first purchase from Oiselle.
5 Jade Voyager Yoga Mat: I purchased this yoga mat prior to Seawheeze in 2018 as I wanted to be able to transport it with me to Canada, but I ended up using it for all of my yoga classes. It endured my rigorous yoga practice and teaching schedule for two years, and I just refreshed it. Jade is still my favorite yoga mat brand for my overall practice and this mat is an amazing, compact and lightweight mat.
6 Light weights: These were a hot commodity at the start of the pandemic but it looks like they're a little easier to come by now. I use them for most of my home workouts like barre, Soul Fusion (or similar routines), and even some of my kickboxing classes for the core sections.
7 Malicious Women Fitness Candles: I love their candles. Find your post-workout zen (or burn them while you flow through your yoga asanas). They make great gifts and have something perfect for just about every occasion. Here's a referral code for a discount off of your first purchase. Check out their whole collection of candles.
8 Noxgear Reflective Vest: A must for your evening outdoor workouts. Various settings include just one color, flashing lights, or slow fades. Stay visible when you're working out outside!
9 Double Cozy Karma Recover Jogger: When it's time to recover, it doesn't get much better than this! I wish they had them in more colors, but I'm about to break my rule of no white pants just so that I can have both options that they come in.
I hope this list helps if you're stumped for gifts, or if you're looking for something for yourself! Let me know if you have any other suggestions or favorites that you've found.