I received Science In Sport Isotonic gels to review as part of being a BibRave Pro. Learn more about becoming a BibRave Pro (ambassador), and check out BibRave.com to review find and write race reviews! This review is my own and is my honest experience with the product.
About two years ago, I completely burned out on energy gu's. I was training for my first marathon, and gu was my energy boost of choice. I used it for all of my long runs, and race day, with my training spanning over the course of several months. Even at the start of training, I found there were only a few flavors I could stomach as they all had the underlying 'gu' taste and texture. By the time race day came, I was happy if I never saw another gu again.
When I first saw Science in Sport energy gels at a Rock N Roll event last year, I immediately lumped them into the 'gu' category. I didn't even try the sample that was given to me as the thought of consuming one made my stomach turn. But having now wrapped up ultra training for the year and setting my sights on my shorter distance goals (half and full), I started to realize that unlike ultras, a pb&j probably isn't the most efficient energy boost for your typical road race. I needed to revisit my hydration and fueling strategy.
Enter BibRave: They came to us with a chance to try SIS Isotonic gels. I hesitated at first, but as my upcoming race is part of the Rock N' Roll Series, I realized this would be the perfect time to train with the on course hydration option. I tentatively entered my name.
First things first, I didn't know what isotonic meant. After some googling, I found that it ultimately is a solution that increases fluid volume that would otherwise have been lost through dehydration, etc. Or as SIS explains it:
The Isotonic formula allows the gel to empty from the stomach quickly as no fluid needs to be drawn into your stomach to dilute the gel, providing fast energy.

Science In Sport Website
This means that with their Isotonic gels, you actually don't need to take it with water. It's easy to digest, doesn't require extra water which can cause that feeling of heaviness and bloating, and provides a quick carbohydrate boost for your endurance activities. That all sounded great, but how did it taste and what's the consistency? Those were deal breakers for me. If I don't like the taste, I'm not going to use it, and if the consistency is too thick or 'weird', I think my gag reflex would kick in like it does from my old training products. I need to be able to take this mid-race and (hopefully) enjoy it.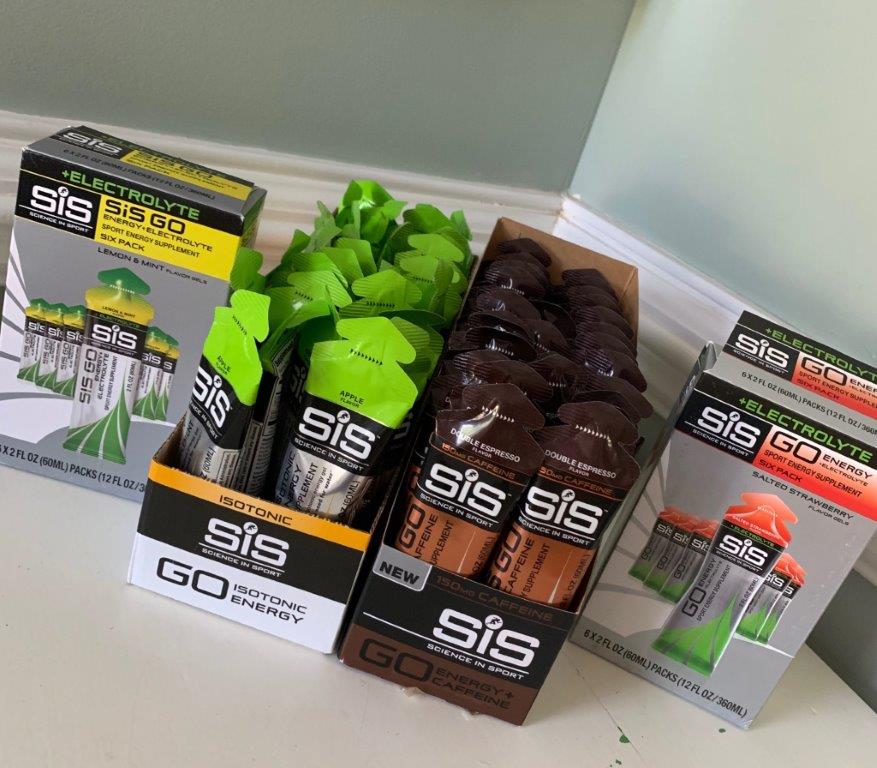 So in comes SIS. They sent me a big, HEAVY box of gels. Surely more than one person could consume in a training cycle but thankfully, they wanted me to spread the love. So I did! I shared it with my fellow running mates on various long runs and mid-week workouts. I approached them tentatively but intrigued by the flavors like: Salted Strawberry, Lemon and Mint, and Apple. All of those sounded completely doable, even though I had previously leaned to the more chocolate-y flavors of my previous gus. I started to take them out for my training runs. I should also clarify that the isotonic flavor is Apple, the rest are their Energy + Electrolyte gels. They gave us a full range to supply. As I still can't take caffeine from my dietary issues, I had to skip trying that one.
I started with Salted Strawberry, and slipped it into my Orange Mud Gear Vest Pro. It fit perfectly in the shoulder pocket, but this would be a perfect opportunity to go over the size of these bad boys. These are bigger than your typical energy gu, measuring at 6.5×1.75 inches. But as they have a thinner consistency than the other product, it makes sense that they need the bigger space. But it still fit perfectly within my running vests and belts. The products that I received were also all around 90 calories. Nice for the little boost of carbs and energy that they provide. SIS recommends taking 1-3 gels per hour during your endurance exercise.
Back to Salted Strawberry. The packet was easy to open during a sweaty run, and the consistency was easy to consume. Someone described it as a more liquidy jello… and I'd agree. It wasn't displeasing. I also enjoyed the flavor though I was initially skeptical of the 'salted' aspect. But now I was eager to start trying the others.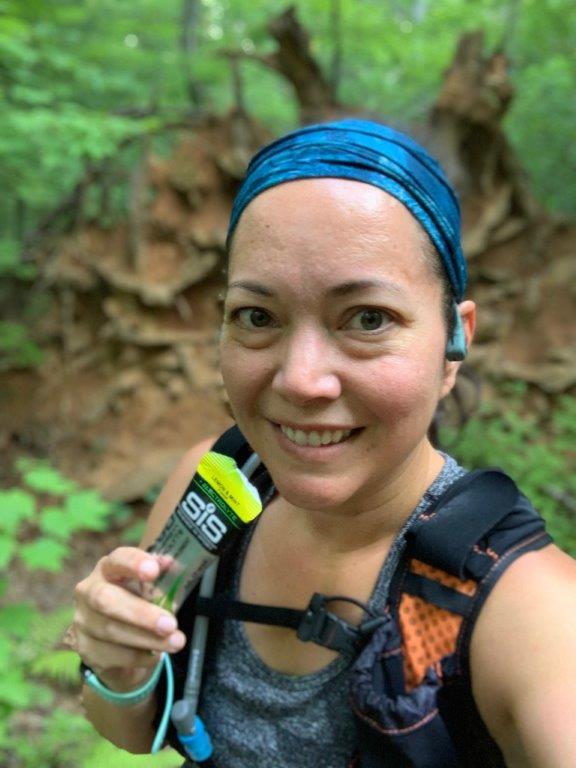 I brought Apple and Lemon & Mint on my next few runs to rotate through and they both tasted really good. I have to say that Apple is my favorite. The flavor was nice and I would be able to easily tolerate it as multiple packets within a long run.
Through all of this, I was also cautious because I had just started my elimination diet and was worried that I wouldn't be able to actually consume these without side effects that I was trying to avoid. Thankfully, a quick review of the ingredients list (I can't do gluten, soy, and a few other things) and the fact that they use natural flavors, put me more at ease. Per their website, the Isotonic gels are 'designed to be absorbed fast into your gut, providing fast energy.' This helps prevent the feelings of bloating and discomfort, and side effects that anyone would really want to be avoiding anyways.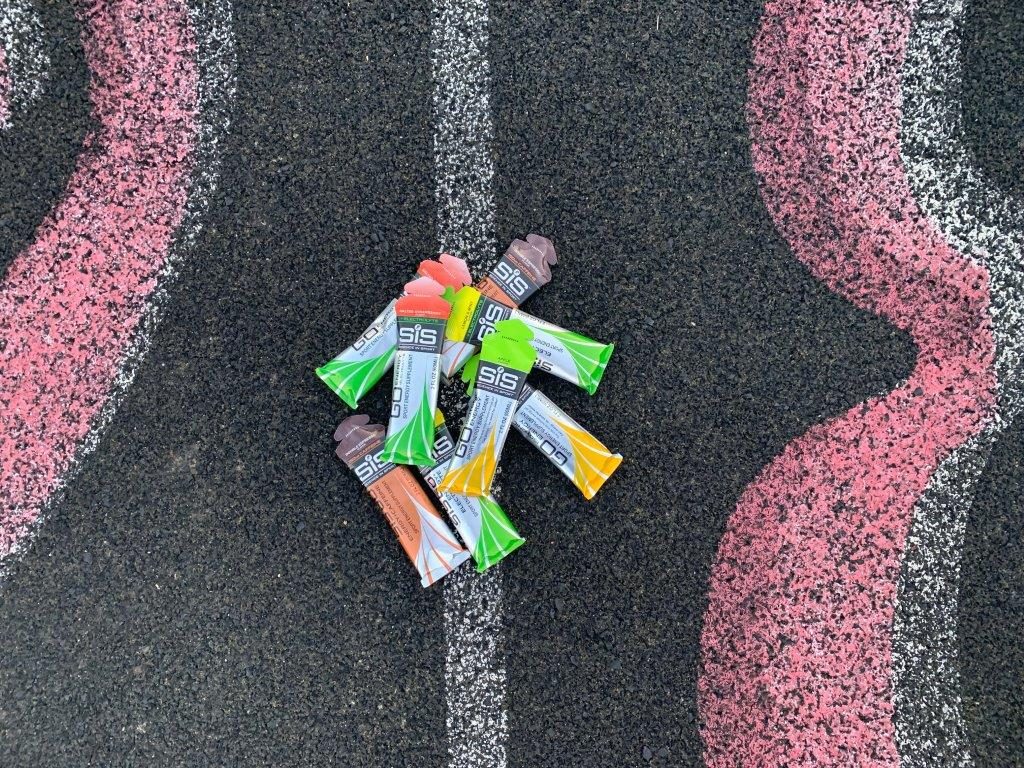 So overall, SIS made me a believer of the packet energy solutions again. I'm looking forward to continuing my training for the Chicago half marathon, and that I can pick up some additional flavors at the expo (everyone keeps telling me that Tropical is amazing). But you don't have to wait for a Rock N' Roll race to get yours!
Science in Sport is offering readers 25% off their product! Shop their website and use the code 'TRYSIS25'. What flavor are you keen to try?