Spring is starting to make a regular appearance here in Raleigh, North Carolina. This made for some enjoyable outdoor runs when I could squeeze them in. It was a busy work week for both my full-time job and my fitness instruction… throw in all the extras and the family barely had time to slow down and relax! Here's how the week looked:
Monday: Rest day. Was sore from the weekend certification class, so just spent time studying the program and letting my body recoup.
Tuesday: Taught PiYo at Ladies Fitness and Wellness. We are in between rounds so I took it back to one of my favorites, Round 47!
Wednesday: I'm not gonna lie, I did a lot, but it was a rare chance to take the my Mossa class at the Y so I did that over lunch, taught PiYo in the evening, and then a super short run with a neighborhood running buddy. I try not to regularly do triple days, but with a half marathon next weekend, and six days since my last run, I knew I needed to get a short one in.
Thursday: Birthday dinner for a friend and not enough time for a workout, but after my triple day, I wasn't sad about a rest day.
Friday: Early morning 5k. Volunteered at the Umstead 100 spaghetti dinner.
Saturday: 2 miles before teaching PiYo. Evening volunteer shift for the Umstead 100, helping out at one of the aid stations.
Sunday: Ran 6 miles with a trail friend in town from VA who was also volunteering at Umstead. 4 miles single track and 2 on the bridle, cheering on the runners that were still going from the previous day. Afternoon Mossa class at the Y.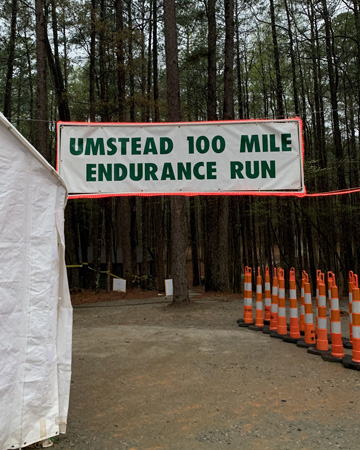 Friday and Saturday included time volunteering at the Umstead 100 mile ultramarathon. I've been wanting to do more race volunteering, especially when it's local events, so the Umstead 100 seemed like a good place to start. It was pretty incredible watching these runners push themselves to some crazy extremes. I'll admit, it didn't leave me with a lot of desire to tackle 100 miles myself! But I would love to volunteer for it again next year, and maybe sign up as a pacer next time.
I'm still working on learning and memorizing the Mossa Power routine for the final step in the certification process. It's slow going with everything else I'm juggling, but this next week has a little less teaching, and easy runs in preparation for the Blue Ridge Half Marathon next weekend. I'm going to try to dedicate a little time every evening to nailing down this routine.
How is your upcoming week looking? What are you training for?