Disclaimer: I'm promoting the Allstate Charlotte Hot Chocolate 5k/15k, the Crawlin' Crab Half Marathon and 5k, the Big Sur International Marathon, and the Monterey Bay Half Marathon as part of being a BibRave Pro. Learn more about becoming a BibRave Pro (ambassador), and check out BibRave.com to find and write race reviews!
The week isn't quite done yet, but this weekend will get its own special post. That being said, it has been a pretty eventful week for me race-wise! As I'm working with a new coach and setting future race targets, race sign-ups make me so very happy!
First things first, I went ahead and signed up for the Allstate Hot Chocolate 15k in Charlotte this February. Raleigh is only a couple of hours from Charlotte, and the last couple of years I have found myself there the weekend before or after the race… but it never worked out where I was there race weekend! Well, when BibRave announced this partnership, I jumped on it! I'm a fan of all things chocolate, and while dairy doesn't necessarily agree with me these days, a chocolate theme'd race is still the way to my heart. Beside, a 9 mile race is a fun distance for me. Just long enough where I don't question my decisions. And I'm a sucker for a good theme and swap. This race in has both!
A fleece jacket is included with your registration. Who needs a t-shirt in February when you can get a jacket!
A fun medal, regardless of the distance.
And obviously, the chocolate! This year they're going green and using a biodegradable bowl and mug, but that won't keep you from holding all of your sweet finisher treats! Oh, and apparently, they have chocolate served on the course, too. Why have I waited so long for this race?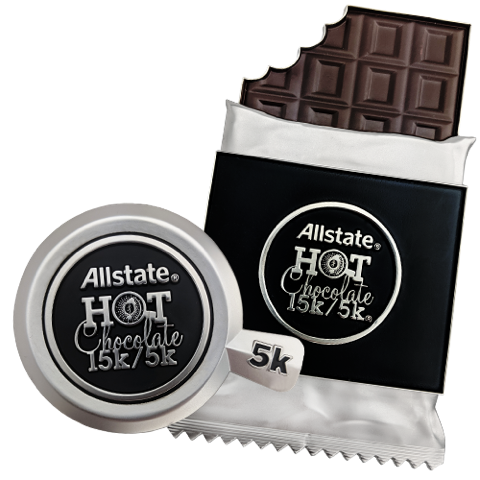 If you want to join the fun, use code "BRHCCharlotte19" for a Free Hot Chocolate Running Hat.
Alright, now that I'm on a sugar high, on to the next race. This week I also booked my lodging for the October Crawlin' Crab half marathon weekend. I'm participating in this event with the whole family: there's a kids 1k, a 5k for my husband, and I'll run the nice, flat, half marathon course on Sunday. While I'm still early on in my training, I'd love to beat my Chicago time for this Fall race! We'll see how the progress goes, but so far so good. I've been researching the location of the race: Hampton, Virginia, and finding some great things for the family while we're there for the weekend. First things first, eating all the delicious seafood! But then, we'll get some beach time in as the kids have been begging for a trip, and maybe see the nearby Fort. We have never been to Hampton, Virginia, but it once again seems to be just a couple of hours from Raleigh, so we can head up after work/school on Friday for our little weekend away.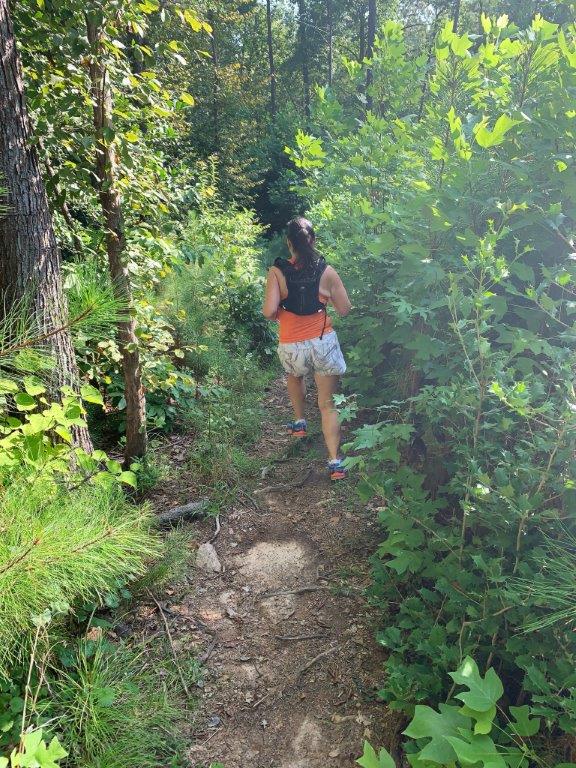 Finally, my most exciting news of the week was confirmation of my entry for the Big Sur International Marathon. As you may have seen me mention, my husband and I relocated to Raleigh from the California Bay Area. Big Sur was our happy place when we lived in California. We regularly made it out there for camping trips at our favorite state park (Pfeiffer Big Sur), or a glamping weekend at TreeBones Resort, Big Sur. We miss the area so much, and aside from a long training run from Santa Cruz to Capitola back in 2016, I've never actually run the Monterey or Big Sur area! I can tell you that from driving the coast, it is such a spectacular place! I love the trees and woods of North Carolina, but there's something magical about the rugged California coast.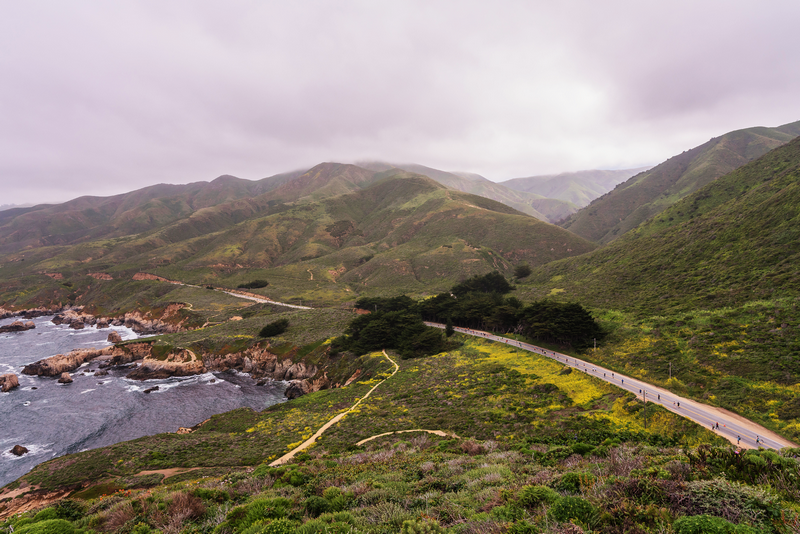 The Big Sur Marathon has been on my bucket list since marathon running became a reality for me, so to have a spot for 2020 brings me so much joy! I'll try to get some time in to visit friends and family when I'm in town, but really, I'm going to get some of that salty sea air in my lungs! Before registering, I didn't realize it but they actually have quite a few race distances! There's the family friendly By-The-Bay 3k, a 5k, 12k, 11 miler, 21 miler, and marathon relay! So even if you can't get into the marathon (it's a lottery system or you can sign up via a fundraising organization), you have a ton of options to enjoy the coast!
If you can't wait for April, BSIM also puts on the Monterey Bay Half Marathon in November that looks pretty spectacular. They have multiple race distances including the family friendly 3k, a 5k, and a challenge where you can run the 5k on Saturday and the half on Sunday. Because why not get two days of the views? If I wasn't running the New York Marathon the week before, I would be all over this one! Monterey also has a lot of great family friendly activities, including a spectacular aquarium (which may seem familiar from Finding Dory which heavily influenced it according to my Google searches).
My training has been feeling great this week. It was a little less hectic with my cross training and the weather has been a bit milder, so I could focus a bit more on recovery in between my runs. I'm looking forward to my Sunday morning long run in a new place with the Oiselle crew, and sessions with elites like Kara Goucher, Lauren Fleshman, and Allie Kieffer.
So, as you can see, I had a few exciting moments this week, all leading up to the Oiselle Volee Bird Camp this weekend. I leave tomorrow morning and am so excited for a little getaway where I can totally immerse myself in the Oiselle running community. I'll check in next week once the dust has settled! If you want to follow along on my #bigbirdcamp adventures, be sure to follow me on Instagram where I'll post in my feed and stories. Now time to finish packing!