I'm back from a weekend race-cation where I was able to check another state off of my half-marathon-and-above list, and visit a nearby National Park: the Great Smoky Mountains. Once again, I was reminded that being on the East Coast, I now have somewhat easy access to multiple neighboring states, including Tennessee. I had only been to Nashville once for work, so I was excited to get out to see a different part of this unfamiliar-to-me state.
The timing worked out somewhat perfectly as we left late on Thursday afternoon, just as Hurricane Dorian was scheduled to be making its way through our area. We were only going to feel the outer edges of the storm due to our location in Raleigh, and we had family that would be staying at our house as they had evacuated from Savannah from when the storm hit there earlier in the week. So we said 'peace out' to Dorian and were past the rain within the first 30 minutes of our drive. A short (I laugh at this as no drive of any certain length is short with two young children) 6 hours later and we were pulling into our rented cabin in Townsend, Tennessee. We were pretty exhausted and went to bed ready to hit the ground running the next day.
Friday morning we were up and out the door for breakfast before 7am. We filled up on a delicious meal at Elvira's Cafe which was a cute breakfast spot just down the road from us. Apparently there was a car show going on in Pigeon Forge (or thereabouts) over the weekend so there were a lot of vintage sports cars on display in the parking lot as the drivers also needed to fill up their bellies for the activities of the day. Service was quick and we were soon on our way into the National Park. We headed straight to Laurel Falls as the Vacation Races guide had mentioned that it is one of the most popular family-friendly trails. I had hoped to do their trifecta challenge (visit 3 specific sites) but I realized too late that you had to have your race medal and bib already for the pictures. We were leaving the day after the race so we wouldn't be able to fit it in with everything else that we were doing. But we trusted the guide with the hiking recommendations anyways as we wanted to get in some iconic sites and give the kids a taste of hiking in the National Parks.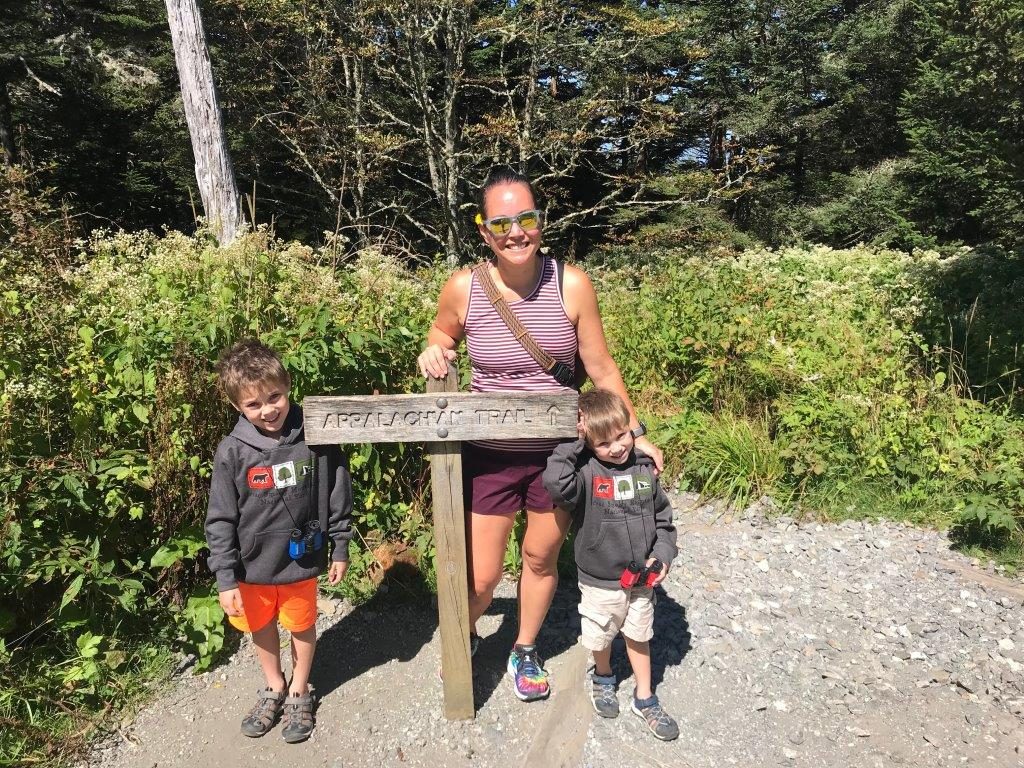 The boys loved the hike to the waterfall and it was fun branching out on our little adventure. We got back in the car and made our way to Clingmans Dome: the highest point in TN, a connector to the Appalachian Trail and Mountain to Sea trail, and the third highest point east of the Mississippi. As such, it was a steep hike up a paved trail to the viewpoint, but the boys were troopers and made it up with little complaint. At the top, we took some time to enjoy the windy overlook, then made our way back down for our drive back to Townsend. Looking back, we could have packed a lunch and then made the drive to Cades Cove, but our current plan did give us some downtime to rest back at the cabin. Before that though, we stopped at the Misty Morning Cafe for what the boys declared 'the best grilled cheese sandwich ever' (I stuck with a salad; I didn't want to relive Rock N Roll Vegas 2018), and then to the race expo to pick up my bib.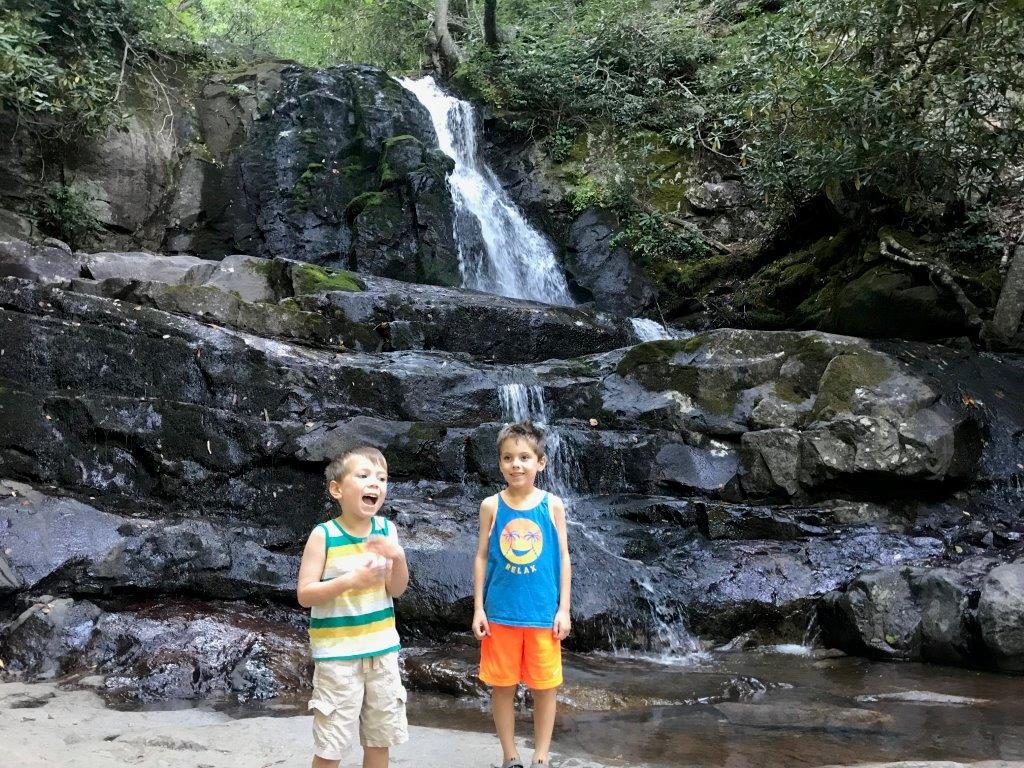 At the expo, there was a decent line for regular bib pickup, but thankfully the Black Bear Double table was waiting for someone to come and visit it. That someone was me. I grabbed my single bib and registration gift. I went with the trucker hat because I've found you can never have too many and they store a lot better for me than another race t-shirt or tank. The Black Bear Double Challenge is doing the Friday evening 5k, followed by the Saturday morning half marathon. As a result, you get the special bib, registration gift, and earn an extra medal… with a spinner! I'm a sucker for spinners.
Next, I picked up the Great Smoky Mountain race shirt, hydro pouch (it's a cup-free race so they give the option of a free reusable 'pouch' to grab fluids from aid stations), and then checked out a few of the other booths. I made a re-usable bag out of old Vacation Races shirts, and helped the kids make s'mores from their sweltering s'mores station. They didn't care that it was a hot and sunny day. After packet pickup, we went back to the cabin to relax for a little bit before heading back over for the evening 5k. I took some time to enjoy the screened in porch rocking chairs and read a book, while the kids played on the swinging chair also installed out there.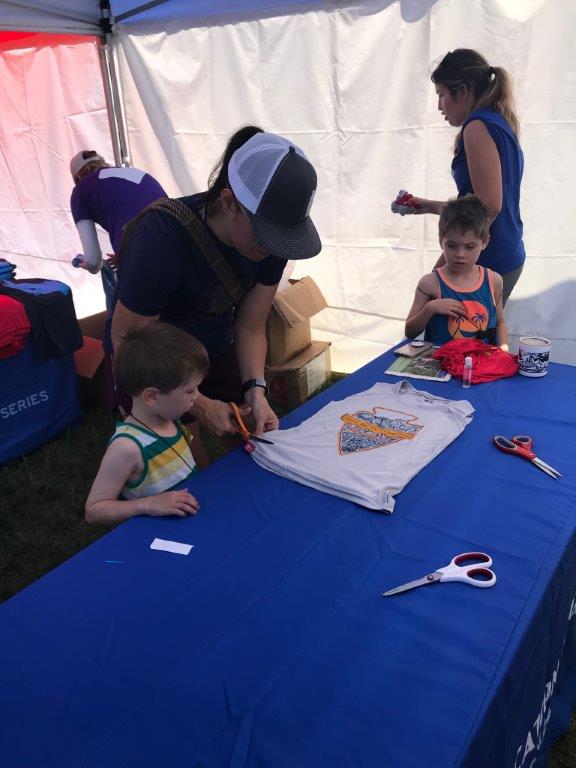 Soon enough, we were headed back over for the 2 minute drive back to the race start. Yup, we stayed that close. We hung out for a bit with the boys playing in the giant field, until it was time to line up at the start. I found Stephanie who was doing the challenge as well and we made our way into the corrals.
I don't fancy myself as fast, but from previous 5k experience, I placed myself close enough to the front. I went towards the beginning of the wave 2 start. They tried to encourage strollers and walkers to be in waves 4 and 5 but I know a lot of people still go towards wave 1 and 2 not realizing how the line-up and pacing generally works. I get it; I get excited too. But I don't think we knew how tight this course would be. It was essentially a paved walking trail that could hold people 4 across. Thankfully, grass lined on each side but still…
The starting gun went off and they started to release the waves about 50 people at a time. The organizers knew the course would be congested so this was definitely a smart move. I went off in maybe the 4th batch of releases and was right at the front of the pack. I felt like I held a pretty decent pace with those around me, but even before the first quarter mile people in my group started walking. Not from interval running, but just realizing they went out to fast or weren't feeling great… I don't know, but unfortunately they didn't move to the side. So in this narrow course we were jumping around people and dodging onto the grass to get around. I try to be pretty patient in most cases but it was definitely frustrating being that they were positioned at such an early wave in the race. Luckily, we started to find our rhythms and other runners of similar paces as we progressed. Of course, shortly after I started, the first runner was already on the way back. They're so freakin' fast!
I was feeling pretty good about my pace. My coach had told me not to go crazy this weekend as my end goal is the New York Marathon in November, but I hadn't run a 5k in forever and was really enjoying the pace once I settled… with the disclaimer that I knew I only had to maintain it for 3 miles (don't go upping my speed work just yet, Jess!). Then we turned in to the 'lollipop' portion of the race. You are spit out into a huge field and essentially ran the outer, mowed perimeter of it. Runners were dropping like flies but my single track trail running practice kicked into gear and I started flying past people. I can handle a grassy field! I came out of the lollipop and back onto the pavement, ready to take on the last mile. I kept reminding myself that I had a half marathon the next morning but I was ticking off the little landmarks on the way back knowing that I was almost at the finish.
0.2 miles from the finish line, I crested a hill and saw my family waiting for me at the bottom. They started screaming and cheering, and my eldest joined me to race to the finish line. It was such a fun moment that apparently my youngest decided at the last minute to do the same and came flying in shortly afterwards. The kids of course claimed my single post-race chocolate milk and banana (ok, they allowed me a small bit of the banana), but I kept the treat box for myself. Vacation Races always has the best post-race snacks!
We ran out for a quick dinner and then were back to the cabin for an early night. I was worried that the boys wouldn't be able to go to bed right away but we were all clearly drained from the day. I do wish I could say I had a good night of sleep before the race, but we woke in the middle of the night to 'a noise' which of course had my paranoid, very imaginative-mind working (it might be all of the true-crime podcasts I listen to during my runs). I fell back asleep around 2am and was back up for the 5am race morning alarm.
I had James and the boys drop me off at the start line as we had a little extra time, and I didn't want to deal with the hassle of shuttle lines from the finish line over. The majority of the runners were definitely taking advantage of the shuttle though. We arrived in no time and I hung out at the starting area waiting for Steph and my other friend, Michelle to join. Steph arrived after her felt-like-near-death experience on the shuttle (we seem to get the lead-footed shuttle drivers wherever we go, and always on winding roads), and then we waited for Michelle… who barely made it on to the last shuttle! She was one lucky duck but we were happy that she made it over in time as it was also her first ever half marathon! That being said, she is darn speedy and was going to 'run easy' with me for the race. Well, at mile 5 or 6 I told her 'fly free little bird!' and she took off. Like seriously. We were going between a 10 and 11 minute mile together and she still finished at 2:06… meaning she hauled butt after she left me!
The course was rolling hills with an overall elevation gain, but honestly, it didn't feel too horrible for me; the one time I don't curse the hill practice I get running throughout my neighborhood. There were definitely some little climbs, but it felt easier than Zion (also an uphill half) and similar to running in Raleigh. Looking at the elevation profile from my Garmin, I was actually pretty surprised to see how much incline there was. It could just be a result of my overall training at this point, but I enjoyed the race and the beautiful scenery along the way. Again, I did tune in to my coach's comments of 'just keep it all in big picture perspective' so tried to take it easy. I ran the whole time except to get water and electrolytes from the aid stations. The weather felt nice but I was sweating a ton from the humidity and was worried about dehydration.
Once again, I saw my family at the same spot by the finish line, and this time my youngest ran in with me to the finish. Probably better because he's a little slower than my eldest so I didn't have to try to keep up with him. I grabbed his hand and we crossed the line together. The volunteers at the finish put the medal on him and from then on he declared it 'his medal.' I grabbed the sacrificial banana and chocolate milk and kept the snack box for myself, then we headed over to the Black Bear Challenge table to get my special medal. After walking around in a hot daze for a few minutes, we went chatted with Dehn from Vacation Races about the course and some of their other events that I've enjoyed/want to do in the future, and then took a picture back by the finish line.
I was reminded after the race that one of the best feelings in the world is the post-race shower. Seriously, I was so sweaty and the water pressure in the cabin was pretty amazing. I freshened up and then connected with Michelle and Steph to find out their plans for the rest of the day.
We decided to do an easy tour of the Tuckaleechee Caverns with Michelle and another friend that came on the trip. The boys were excited to get in some time with more kids and I had pretty low expectations of the caverns. Maybe just an easy walk for 30 minutes or so. Wow, was I wrong!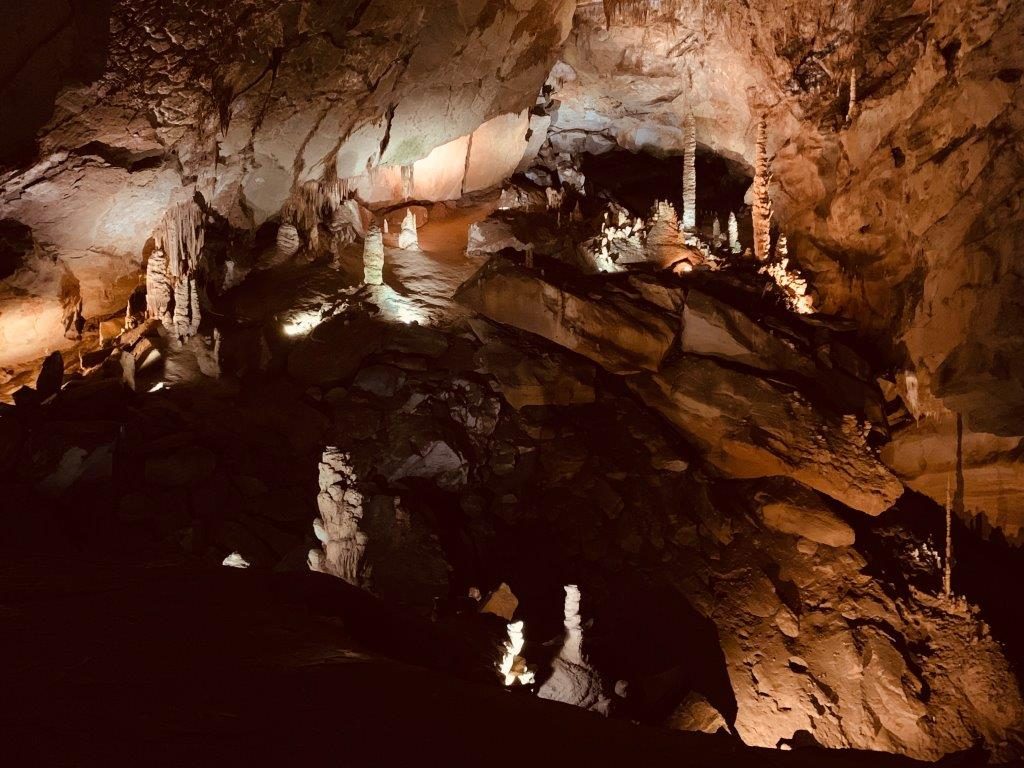 We had done the Linville Caverns at Grandfather Mountain last year so I expected a similar experience. The Tuckaleechee Caverns were a whole 'nother level! It was over a mile of caverns that we got to explore with the guide, who happened to be a descendent of one of the kids who really explored the caverns back in the 1920s. There was an underground waterfall, some really cool stalagmites and stalactites, natural springs, and a giant room large enough to fit the Statue of Liberty. There was also a lot of walking. It's no surprise that my Garmin logged over 31,000 steps on Saturday.
After the caverns and having only had a couple of little snacks post-race, I was ready for a major lunch. We went to Smokin' Joe's BBQ down the road and had my fill of BBQ and carbs. I was a happy camper and ready to just lounge around for the rest of the day. What better way to do that than on an inner tube going down the river?
We made our way to River Rat tubing company who was doing booming business. The water levels were low, which they warned us about, but because of this they were the only tubing place letting people out there. I was fine with a slower float. We latched the kids to our floats and set off. Slowly. What is probably a 45 minute to an hour trip took us over an hour and a half. But we had a lot of fun and the water felt amazing on my tired limbs. We stopped for a little while at the giant rocks along the side and I launched myself off of it a couple of times before finishing up our float to the pickup point.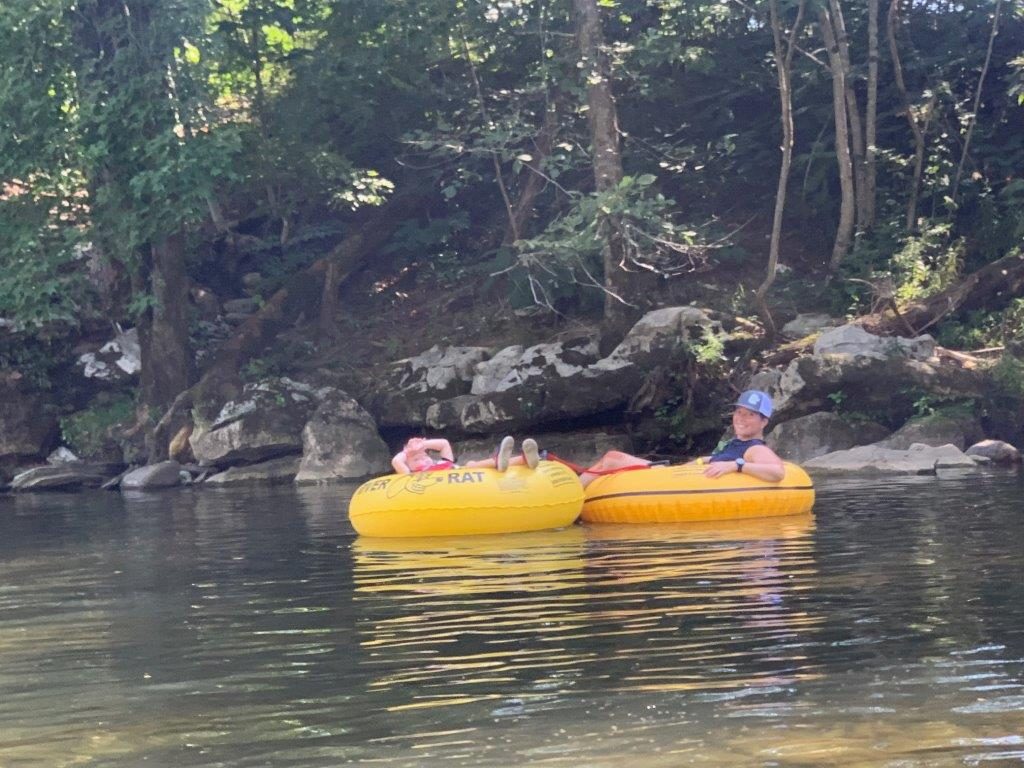 Once again it was back to the cabin to freshen up and then meet everyone for dinner. We went to a little Mexican restaurant that was tasty but low on staff. It was fine; we had nowhere to be. We enjoyed a ton of chips, some drinks, and finally our dinner. After that, we parted ways and headed back to the cabin for our final night. I enjoyed the cabin's hot tub for a brief soak and then fell into a blissful sleep. So blissful that even our kids didn't wake up until a full hour later than they normally do! We quickly packed up the cabin and then hit the road to head home.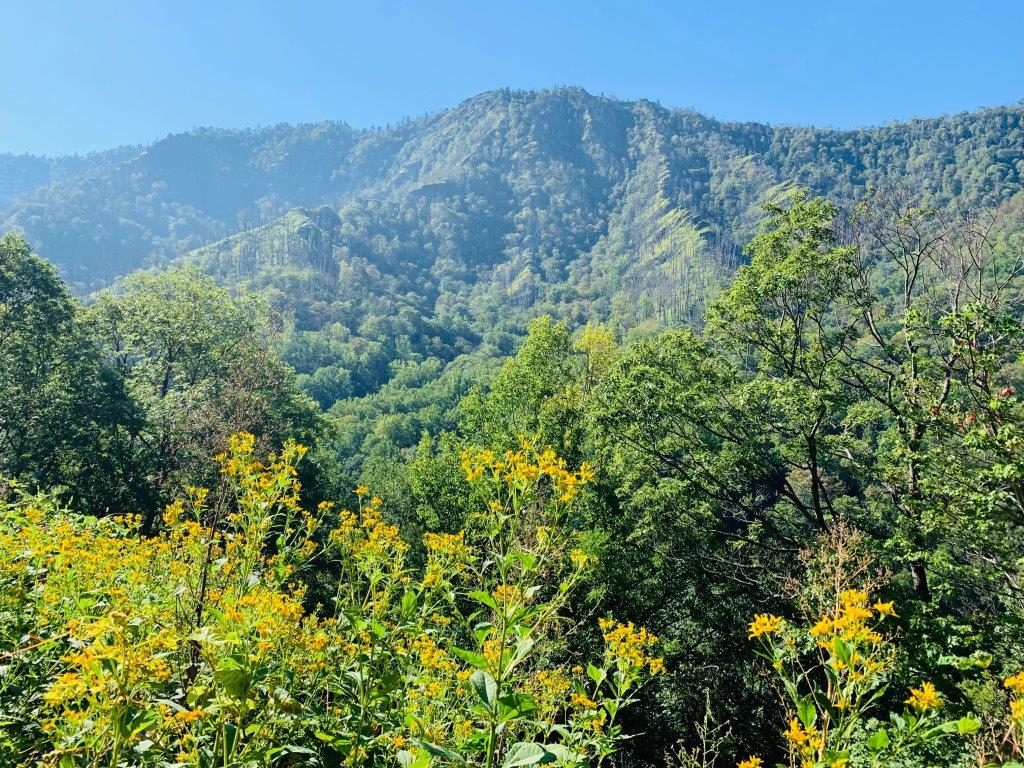 Having the opportunity to do these little race weekend getaways has been really nice. It makes it a bit more pleasant to not have to deal with the logistics and expense of flights and to find something closer to home. James and I have talked about how great it would be to have a camping pod or camper van, but I don't think we're quite ready for that expense just yet. In the meantime, I keep looking for the next fun destination and state to check off of my list. New York is on the horizon, but then I'll be revisiting a few states for upcoming races. I need to look into another destination for next year as they are currently all duplicated and I don't want to stall before lucky number 13.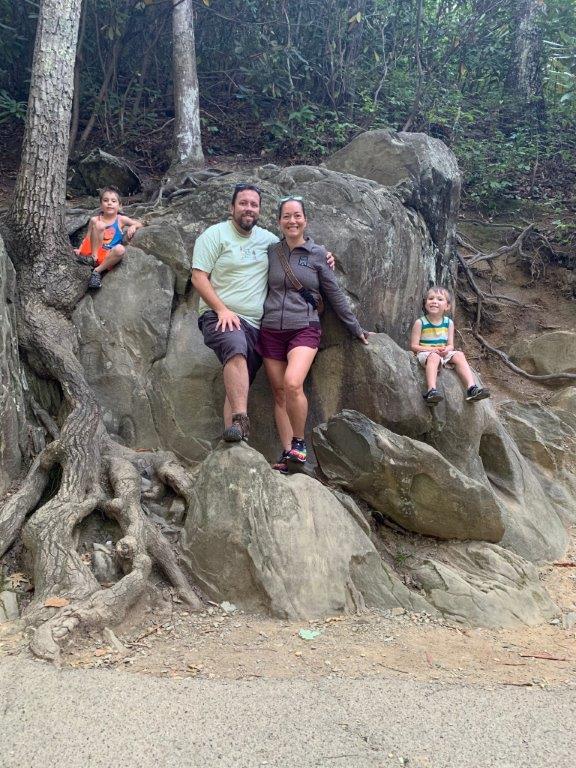 Do you have any questions about destination races? Where would you go if you could pick any location?