Disclaimer: I received a Stunt Puppy Go Dog Glow Harness to review as part of being a BibRave Pro. Learn more about becoming a BibRave Pro (ambassador), and check out BibRave.com to review find and write race reviews!
My dog, full name Wallace MacWagglebottom Newton, is a bit of a spaz. He's a Welsh Springer Spaniel and spends his waking hours hunting squirrels, rabbits, birds, shadows, blades of grass, etc. He has never met a small creature that he didn't want to instantly catch up to and befriend. Ok, maybe eat, but honestly I don't know if he'd know what to do if ever did actually catch one of these creatures. Given his tendency to lurch, lunge, and bolt at any given moment on outings. Needless to say, walks are a struggle, runs are an exercise in survival. Even now as he approaches his 11th birthday this year… he still gets those puppy bursts of energy.
Another problem that we often face is that because of these bad habits, he tugs so much when he's out with us, that he gets a hoarse, wheezing sound as collars and harness tend to put too much pressure on his neck. It just amounts to a not-super enjoyable job for anyone.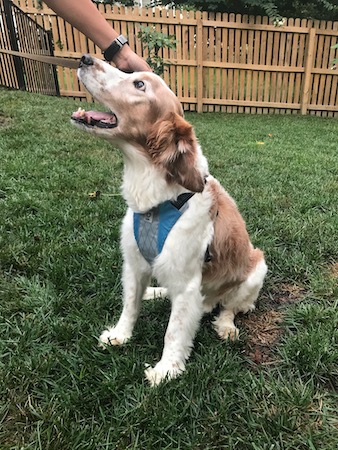 We have tried numerous collars and leashes over the years, without much success. Heeling was never Wallace's strong suit in puppy school. But the Stunt Puppy Go Dog Glo Harness seemed like a good solution for a gentle control harness. First, you measure the girth of your dog. I used the FAQs page to determine the proper sizing. Wallace measured for the Medium and shortly thereafter, received the harness. It fit him perfectly with some minor adjustments of the straps, demonstrated in their guide. Wallace is pretty wiggly (as you can imagine by his name), but it was easy and quick to clip him in.
There are two features that I love about this harness. The first is the Martingale-style leash attachment. Essentially as your dog pulls on the leash, it gently tightens around their shoulders, signaling them to stop. The placement of the harness on their chest, in combination with leash clip, doesn't cause any pressure on their throat that would previously have been a culprit of Wallace's gasping and wheezing during our walks. I also found it didn't tangle as easily as other harnesses due to the placement on his back. The second feature that I really appreciate, is the reflective front vest. It's great for low lighting or visibility, and a nice added safety feature for your fur baby.
I felt comfortable enough with the control that the harness provided that for the first time, I let my 6 year old lead Wallace on our walks. Normally Wallace pulls so much and so aggressively that I wouldn't dare, but that gentle tightening really made quite a difference for him. I definitely still stood right by his side as he walked him, and guided him in some commands to use, but it made for a less stressful walk for the whole family.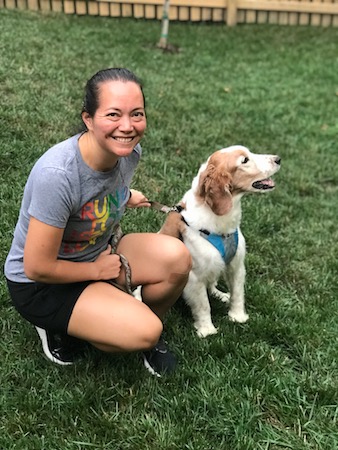 Check out the Stunt Puppy Go Dog Glo Harness on their website, and be sure to check out their other fun products. Wallace would have loved their Stunt Runner leash in his prime puppy days!
What's your favorite product for your fur baby? Share in the comments below.