Disclaimer: I'm promoting the Blue Ridge Marathon and Bull City Race Fest as part of being a BibRave Pro. Learn more about becoming a BibRave Pro (ambassador), and check out BibRave.com to find and write race reviews!"
Since planning out my goals and races at the beginning of the year, I've had to make a few changes to my schedule. The biggest disappointment is cancelling out of the Yosemite half marathon in May. As much as I would LOVE to run Yosemite, the cost and logistics were adding up, especially as this would be another trip that I didn't take my family on. I hope to run it in the next couple of years, as we do have so much family and friends in California; but Yosemite is still quite a haul from our normal haunts.
So with that change, I re-evaluated my race schedule with my family, and we made a few more tweaks to add in more experiences that we could share together with a couple solo running jaunts along the way. First off, I was pleasantly surprised to win an entry to the Blue Ridge Marathon in April. We haven't yet had a chance to really explore that area so I'm going to do a quick trip for the race. We do have plans back in Raleigh the evening of the race, so it will be quick, but hopefully will give me an idea of the area so we can make it a longer, family excursion later on. I'm also going to be one month post-Antelope Canyon so I don't want to overdo my running at this point. As the race is dubbed 'America's Toughest Road Marathon,' this certainly won't be a PR, and I'm only doing the half marathon due to time constraints. It should still be fun and a beautiful race!
If you'd like to participate and visit beautiful Roanoke, Virginia, use the code "BLUERIDGEBIBRAVE" at their website for 20% off.
After April, my plan is to start really working on speed and getting it back to where I used to be… and beyond of course! I slowed down quite a bit over the last year in training for my last two marathons and then the ultra, so I want to get back to shorter mileage (at least for the summer) and slowly start chipping away on my per mile pace as I work up towards my first Fall half marathon in the Great Smoky Mountains. I'm going to run their Black Bear Double and do the 5k on Friday night and the half marathon on Saturday morning. Aside from that, we're making this a family trip and will have a few days to really check out the area with some hikes and excursions… maybe a trip to Dollywood??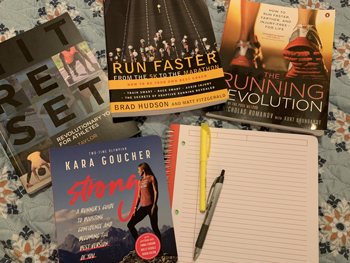 Oh and I should mention that at the end of March I'm also getting certified in a Strength Training workout program through my local YMCA. I'm so excited as I've loved taking this class (the official title is Mossa Power but our Y calls it Strength Train Together) but due to the limited availability, I couldn't always fit it into my schedule due to my long runs and work timing. I think the certification is going to fill a current gap in my regular training. I obviously run a lot, and teach PiYo two to three times a week. The latter has been great for flexibility and body weight resistance training, but I know I also need to lift heavy and add some additional types of cardio such as interval training. When I was at my fastest, I was seeing the most improvement from the combination of all of these things. The thing I love about teaching certain programs is that it keeps me accountable for doing the workouts myself. I'll keep you posted on how that training goes and when I actually start teaching it. If you're local to Raleigh and want to try any of my classes, let me know and I can send you the details!
Back to my Fall schedule: after the Smoky Mountains, I'm taking it back to a local race and one of my favorites… I'm running the Bull City Race Fest in October! This was my first half marathon and is currently my PR race to beat! A surprising accomplishment considering this race is definitely not flat, but it's still near and dear to my heart. It always has a great turnout and a ton of local support. I'm so excited for the opportunity to run it as part of the BibRave Pro team!
Registration for Bull City Race Fest is now open! If you'd like to participate, use BCRFBR10 on their website for 10% off!
And my last scheduled big race for the year is the kicker… the New York Marathon! This will be another family trip and I can't wait to experience this iconic race, as well as explore New York with my family. I have said (repeatedly) that I'm done with marathons, but we know that's a lie. But I am trying to be more selective in those I do, and there is no way I could pass this one up.
I'd also be remiss in leaving out that I have signed up for Oiselle's Birdcamp in August. It's not a race, but a long weekend camp offered to the Oiselle Volee. There will be special guests, discussions about running, group runs, and overall camaraderie. I was so disappointed to miss it last year so I made sure to plan for it and register once the 2019 camp opened up.
So as you can see, it's still a jam packed year! Things are always subject to change, but I'm feeling pretty good about how it's panning out, and how the various distances should ultimately tie together with my training for New York. Doing the big doozy of a race at the beginning of the year was a pain, but it certainly frees up the rest of the year to focus on other priorities!