Disclaimer: I received a Handful Bra to review as part of being a BibRave Pro. Learn more about becoming a BibRave Pro (ambassador), and check out BibRave.com to review find and write race reviews.
While I was out living my best life (ok, really, more questioning my decision making skills) in Arizona a couple of weeks ago, my new Handful Closer Bra arrived! I received this bra to test out as as a BibRave Pro and was so excited for the opportunity. I don't know about you ladies, but I buy a new bra once, maybe twice a year. I find one that works, buy a couple of them, and then wear them until they're practically falling apart at the seams. As someone who has nursed two children and varied in sizes over the years, it's hard to find one that provides enough support while running or for other high impact workouts.
First impression? This bra is soft as buttah. Seriously, so smooth, and no uncomfortable underwires poking around. I used to be skeptical of a zip-front closure, but after another brand sold me on the concept, I was excited that this one was as well. But hey, surprise inside, it had a hook closure to help hold it in place while you're zipping up! This makes it so much easier to handle stuffing the ladies into a bra while trying to zip things shut. I mean, unless you're an octopus then tasks like that are probably a lot simpler… but then you also wouldn't have these problems. I digress. The best part of the front zip? It's easy to get in and out of this bra! No post-run struggles or wrestling to get this in place. I'm able to easily slip in and out without sacrificing the support.
Some additional features to consider? This one's for the busty ladies! High impact support specifically for C-D cups and let me tell you, it's about time! I'm always so frustrated when I see bras that claim high impact support… for A-B cups. That literally does nothing for me. Sizing was easy: I went by my standard shirt size and the bra fit like a dream.
The Closer bra has removable inserts, which makes them easy to take out for washing, and just in general if you're not a fan of padding. I appreciated the extra shape it offered as many sports bras offer a squished, uni-boob front; this bra actually provides a flattering shape while being functional.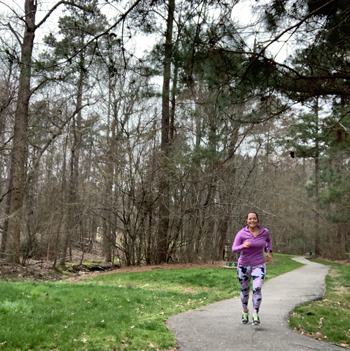 Also, the mesh makes mobility and movement easy, so when I'm teaching a PiYo class or jumping around in a HIIT class, I don't feel the typical strain on my shoulders as I do with other sports bras… in fact, I almost forget it's there. And it's breathable! I sweat a lot when I work out, but the Closer sports bra dried quickly and didn't feel like I was wearing a heavy, sweaty bra.
Finally, what it ultimately comes down to is the performance for high impact activities. As a bra that I plan to use primarily for running, I need it to offer support, and ideally in a comfortable manner. I feel like in order to provide support for larger busts, some bras forgo comfort (and the ability for a person to breathe) in order to just compress and hold firmly in place. I wore this bra for several runs and other workouts varying from low to high intensity with no issues. It provides great support, minimal movement, and an overall strong performance for some tough workouts.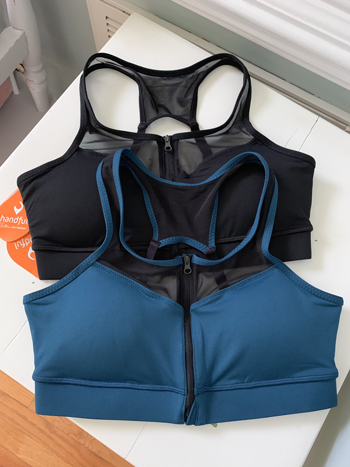 I am pleased as punch with the Handful Closer Sports Bra. I'll be honest, I immediately ordered two more sets. That feeling post laundry day when you pull out your favorite outfit? I'm excited that I have some new, reliable bras in rotation. If you want to get your hands (no pun intended) on one, use the code "BIBRAVE" for 10% off! Go to their website to check out their full line of bras.